Quartet is the charming antidote to the depressing holiday season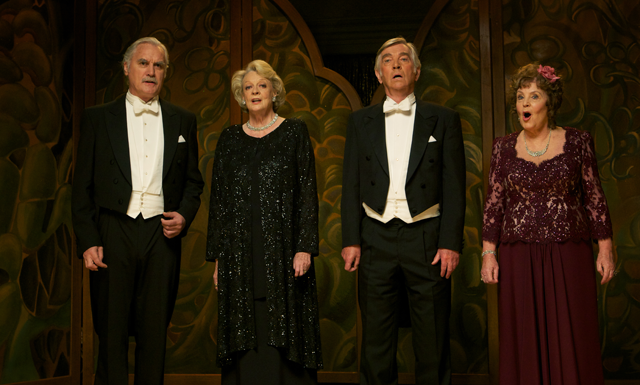 'Quartet' is pleasant and has excellent performances, although it's predictable and without any real substance.
In a world of all sorts of people, one thing that is often forgotten is that everyone gets old — unless you die young. Cheery start, right? It could be argued that the mark of a truly enlightened and advanced society is one that provides housing for the elderly — those that cannot be a part of the workforce anymore. In more utilitarian perspective, they would be discarded. But whether or not we live in such a society, we like to think we do. And one thing that has connected humanity throughout the ages is the memory of music.
In Quartet, the directorial debut of Dustin Hoffman, himself of advanced age, we visit the quaint manor of Beecham House, a home for retired musicians of all stripes (meaning artists and composers). Irascible and arrogant Cedric (Michael Gambon, dressed like Dumbledore — which he played — except without the beard) is trying to ensure that the annual fundraising concert makes enough to keep the house open. And the concert is only weeks away! Meanwhile, three friends and old singing partners, dotty Reg (Tom Courtenay), rascally perverted Will (Billy Connolly), and dotty Cecily (Pauline Collins) gossip and enjoy each other's company. When a new arrival is scheduled, they all wonder who it might be — they don't send a private car for just anyone! But it turns out to be Jean Horton (Maggie Smith, who's been doing this sort of thing a lot lately), the one who broke up the group and went solo. And she broke Reg's heart too. Will they be able to mend their friendships? Will Jean agree to join them at the concert for the titular quartet ("Bella figlia dell'amore") from Verdi's "Rigoletto"? Will we have a happy ending?
Well, gee whiz, what do you think?
The joy is in watching these seasoned pros act effortlessly and naturally, elevating simplistic dialogue and mild quips to true pathos and impeccable wit.
This isn't a movie that's full of surprises. The joy is in watching these seasoned pros act effortlessly and naturally, elevating simplistic dialogue and mild quips to true pathos and impeccable wit. Only Billy Connolly could pull the flirtatious grandfather like this. Pauline Collins manages the difficult task of showing a person slowing losing their mind, although in the movie it's awfully unimportant, and seemingly inserted just to have a "serious" medical scene. And Tom Courtenay and Maggie Smith are just excellent as former lovers who still care but can't show it. There are a few minor characters, but they are quite forgettable. Are these people just alone? No family showing up at the concert? It's just not considered relevant to this simple story of music and friendship. Just a bit is tossed to modern music styles and that perhaps rap and opera aren't so dissimilar.
If you just want to take a break from the dark, dreary (if important) movies out there, Quartet is a decent alternative. Not an amazing movie, but the pieces are good enough to allow the talent of the cast to shine through. Oh, and one more thing: with Maggie Smith and Michael Gambon, you couldn't have a single Harry Potter reference? Ridiculous.
[easyazon-image align="none" asin="B000EQHHJW" locale="us" height="160″ src="http://ecx.images-amazon.com/images/I/51Zc0Pf55sL._SL160_.jpg" width="113″][easyazon-image align="none" asin="B0002C4GU6″ locale="us" height="160″ src="http://ecx.images-amazon.com/images/I/51lLQzGa8lL._SL160_.jpg" width="112″][easyazon-image align="none" asin="B008FYZIVY" locale="us" height="160″ src="http://ecx.images-amazon.com/images/I/41MRHQiYt1L._SL160_.jpg" width="160″]
[easyazon-image align="none" asin="B005S9EJ46″ locale="us" height="160″ src="http://ecx.images-amazon.com/images/I/51EHrPNKyoL._SL160_.jpg" width="134″][easyazon-image align="none" asin="B005OCFGTO" locale="us" height="160″ src="http://ecx.images-amazon.com/images/I/51Mh7ul8reL._SL160_.jpg" width="137″]
Photo Credit: The Weinstein Company