Remembering Larry Hagman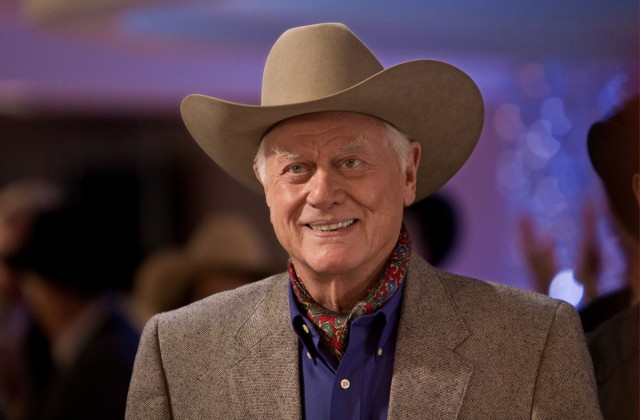 TV icon Larry Hagman has passed away, leaving fans with two indelible characters and decades of entertainment to his credit. How will you best remember Larry Hagman?
Black Friday 2012 really lived up to the name when news broke of the passing of TV icon Larry Hagman. A wave of sadness passed over me as another of our true TV icons has left us with a void that can't be filled. I grew up watching Mr. Hagman in his two signature roles: Major Anthony Nelson on I Dream of Jeannie and J.R. Ewing on Dallas. Over the years, Hagman has made appearances in other TV shows and movies but those two roles defined the man for generations of TV viewers, and thanks to the success of the Dallas reboot on TNT, a new generation was getting a chance to see the great Larry Hagman bring the nefarious J.R. Ewing back to life.
As absurd as the premise of [I Dream of Jeannie] was, Hagman always managed to bring a certain level of realness to the proceedings.
I became a fan as a child growing up in the 60s and 70s, watching reruns of I Dream of Jeannie, which really was Hagman's big break after years of guest appearances and small roles in movies. As a kid, I just loved the special effects and the silliness of the show. As I got older, I really appreciated Hagman's knack for not only the comedy but the physicality he had to bring to the role as well. It's amazing he was never seriously injured while performing the falls and various stunts many of the scripts required of him. As absurd as the premise of the show was, Hagman always managed to bring a certain level of realness to the proceedings. He really was the straight man to all of the wackiness around him, but he was able to garner laughs as well with his physical prowess. I think that's something that really gets overlooked when people talk about I Dream of Jeannie.
After his Jeannie stint ended in 1970 (he blamed the marriage of his character to Jeannie for the show's demise, saying no one cared after they married), Hagman tried his hand at directing (Beware! The Blob), making guest appearances on established shows (Love, American Style, Night Gallery, Police Woman) and starring in two failed series, The Good Life and Here We Go Again. But 1978 was a good year for Mr. Hagman who, after a blink and you missed him cameo in Superman, took a supporting role in a five-part TV mini-series called Dallas.
Hagman knew, rightly, that his performance [as J.R.] played a huge part in [Dallas'] success.
Hagman sensed CBS had something special with the mini-series, and he was right. Audiences loved Dallas and the network quickly greenlit a series, and the producers wisely developed Hagman's J.R. Ewing to be the front-and-center villain of the show. J.R.'s feud with his brother Bobby (Patrick Duffy) and his rocky relationship with his wife Sue Ellen (Linda Gray) — and practically everyone else around him — made Dallas a cultural phenomenon and Hagman the biggest TV star in the land. When J.R. was shot at the end of season three, interest in the show was unprecedented and Hagman knew, rightly, that his performance played a huge part in the show's success. Demanding more money, J.R. was almost killed off for good when Hagman refused to return for filming on season four, but producers knew they had no show without him and wisely gave him the much-deserves raise.
The big question is can Dallas survive without J.R.?
For fourteen seasons, a few guest appearances on spin-off Knots Landing, and three Dallas TV movies, Hagman established himself as a true TV icon. After the end of Dallas' run, Hagman continued to make appearances in movies (Nixon, Primary Colors) and TV shows (The Simpsons, Nip/Tuck), and even appearing at various events promoting the city of Dallas. Hagman also made a brief return to series television in a short guest starring role on Desperate Housewives in 2011. Perhaps his turn as curmudgeon Frank Kaminsky got Warner Brothers and TNT interested in bringing J.R. Ewing back to TV, but it was well-known by this point that Hagman had been battling cancer on and off for many years. He seemed to be in good shape though when the show premiered, hitting the interview circuit and promoting the heck out of the show. Hagman probably single-handedly made the new Dallas a hit. Season two began filming in September, and Hagman returned to complete his scenes in several episodes. Unfortunately, his health took a turn for the worse and Hagman passed away in Dallas on November 23 with his family and best friends Patrick Duffy and Linda Gray by his bedside. J.R. will appear on the second season, but his death will also be addressed. The big question is can Dallas survive without J.R.?
Larry Hagman's passing has left me with a great deal of sadness for his family, friends, fans, and for myself simply because he's been one of those people who have been in my living room for at least 45 years. He will always be remembered as J.R. Ewing, but my fondness for him will always be rooted in his Major Anthony Nelson (and it's really too bad he was tied up with Dallas when the two I Dream of Jeannie TV movies were made). I loved his scheming ways as J.R. but it's the laughter he brought as Major Nelson that I appreciate even more. Thank you, Mr. Hagman, for the decades of entertainment you brought to us all.
[easyazon-image align="none" asin="B001ER4CNY" locale="us" height="124″ src="http://ecx.images-amazon.com/images/I/51bJmKevZbL._SL160_.jpg" width="160″] [easyazon-image align="none" asin="B00028G7LG" locale="us" height="160″ src="http://ecx.images-amazon.com/images/I/51l%2BcF5kGJL._SL160_.jpg" width="117″] [easyazon-image align="none" asin="B0019PL2JI" locale="us" height="160″ src="http://ecx.images-amazon.com/images/I/51JX9CZsWxL._SL160_.jpg" width="122″] [easyazon-image align="none" asin="0783227973″ locale="us" height="160″ src="http://ecx.images-amazon.com/images/I/51X3SBR1KYL._SL160_.jpg" width="113″]
[easyazon-image align="none" asin="B000K4X5XA" locale="us" height="160″ src="http://ecx.images-amazon.com/images/I/51C18cbjDCL._SL160_.jpg" width="137″] [easyazon-image align="none" asin="B007XTDXYG" locale="us" height="160″ src="http://ecx.images-amazon.com/images/I/51Slx%2BauqaL._SL160_.jpg" width="114″] [easyazon-image align="none" asin="B00004XPPE" locale="us" height="160″ src="http://ecx.images-amazon.com/images/I/5185BNFY3YL._SL160_.jpg" width="110″] [easyazon-image align="none" asin="B003Y5HWGI" locale="us" height="160″ src="http://ecx.images-amazon.com/images/I/51IfLnIErtL._SL160_.jpg" width="115″]
Photo Credit: TNT