Every woman deserves her very own Safe Haven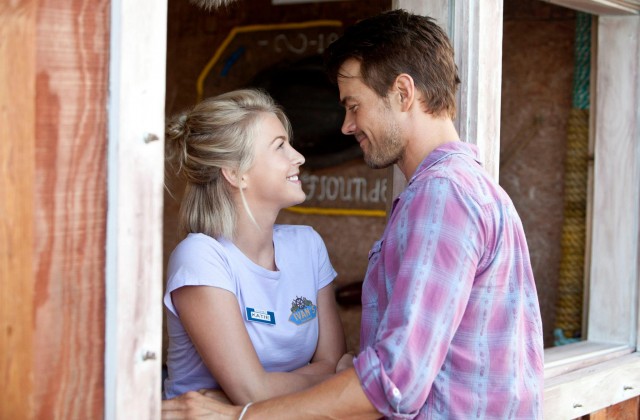 'Safe Haven,' the latest offering from Nicholas Sparks, has enough plot twists and turns to hold interest, but don't go in thinking they're all going to be sweet on this Valentine's Day.
There was a time when I was really into Nicholas Sparks movie adaptations. I'll admit the first time I saw A Walk to Remember I got teary-eyed when Mandy Moore revealed she was dying. My first viewing of The Notebook also made me cry. However, I was a lot younger when both of those came out. In recent years, I've found myself less enthused by the sappy romantic movies Sparks is best known for. I think my waning enthusiasm for his work developed about the same time I saw the less-than-stellar Nights in Rodanthe. Is it just me or do all of his movies have basically the same plot and the same locale?
However, when asked if I wanted to review his latest novel-turned-film, Safe Haven, I jumped on the chance because it not only stars Julianne Hough from Dancing with the Stars fame, but it also looked like something a little different from the usual Sparks drivel. The teasers said it was more of a romantic thriller, and my curiosity was piqued.
From the moment the film started, it did have a different feeling. There are enough little plot twists and turns along the way to hold your interest, and overall, I enjoyed the film. However, I'm not sure I would make this a date night movie on Valentine's Day unless you're single and making it a girls' night out. There are parts of it that aren't very sweet.
Safe Haven has a more sinister background than any of Sparks' other movies.
Safe Haven has a more sinister background than any of Sparks' other movies that I've seen. It's a little jaunting to see America's Sweetheart Hough running scared with blood all over her hands, and you see that pretty early on. From the beginning, it's clear this movie's heroine has a past speckled with bouts of domestic abuse. What kind of a man would want to hurt the sweet, doe-eyed Hough or any other woman for that matter?
Safe Haven is about a woman running scared from her past but finding the courage to start over in a new town. And if that town a.k.a. "pit stop for most people" just happens to have kind, down-to-earth people, beautiful beaches, and a handsome, charming widower with two small children who's been looking for someone to entrust with his timid heart again (a rugged Josh Duhamel), then that makes a fresh start look all the more attractive … especially if you've watched the trailer and seen the two of them playing together on the beach. (Insert dreamy sighs here).
Hough and Duhamel had undeniably good chemistry together.
One of the things I was wondering before the viewing was whether or not Hough would dance in this film. While it may not be as glamorous as her turns on DTWS or even the Footloose remake, the dancing scene did not disappoint and was by far one of my favorites in the movie because it was just so cute. Hough and Duhamel had undeniably good chemistry together. I don't usually like him, but I think I was drawn into his Southern hospitality and widower appeal. I ask you, why wasn't I born south of the Mason-Dixon Line? I would have no trouble giving and receiving food and gifts.
I adored Hough's humble, fixer-upper house in the woods, but if I were a woman on the run, I'm not sure I'd give myself such isolated surroundings. Every time she jumped at the sound of an animal or the bright lights of a car in her driveway, it made my heart thump a little faster for her safety. I also feel the need to mention how much I liked Cobie Smulders' character Jo. I knew there was more to her than initially meets the eye.
Immediately after viewing this film, my best friend's mother and I agreed that every woman out there deserves the comforting arms of a Safe Haven kind of man. If you've already found yours, consider yourself lucky. Hold them tight and don't ever let go. But if you haven't yet, don't lose all hope.
If this film proves anything, it's that it's never too late to start over and "re-find" yourself. You're a beautiful, intelligent, empowered woman and you deserve to find the love you deserve. Don't settle for the wrong man. You owe it to yourself to keep going until you find a safe haven to call your own.
[easyazon-image align="none" asin="0446547573″ locale="us" height="160″ src="http://ecx.images-amazon.com/images/I/51DS-fqguvL._SL160_.jpg" width="99″] [easyazon-image align="none" asin="B00AU15HKW" locale="us" height="160″ src="http://ecx.images-amazon.com/images/I/51L16PUHHnL._SL160_.jpg" width="160″] [easyazon-image align="none" asin="B00BA5DSIU" locale="us" height="160″ src="http://ecx.images-amazon.com/images/I/51pdFv1QbDL._SL160_.jpg" width="160″]
Photo Credit: Relativity Media