Scandal deals in lies and secrets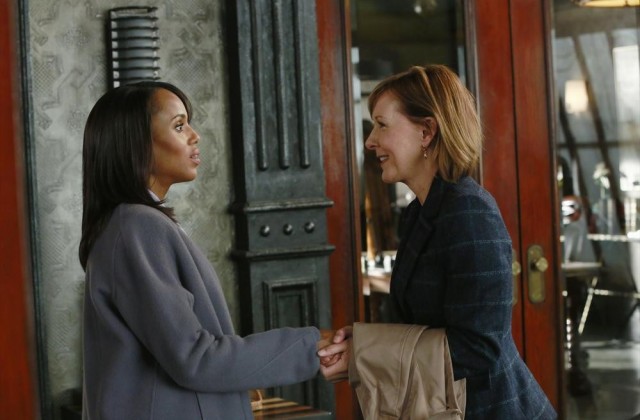 This week's 'Scandal' did a much better job asking – and answering – questions about nations keeping secrets from its citizens than the movie about Wikileaks did.
I screened The Fifth Estate earlier this week (you can find that review elsewhere on the site), and thus spent a great deal of time discussing the role of Wikileaks and Julian Assange in the role of geopolitics. My review didn't get into my view; I did a pretty good job, I think, talking about the movie and not the subject. I thought I was done questioning whether or not we should live in a world were it is OK for some secrets to exist. Then tonight's Scandal came along.
I have been a fan of Shondaland's latest show longer than most of its current watchers had even seen the first episode (I guess that's cheating, as I saw the first episode months before it premiered). Despite me still having some issues with the show – particularly the Fitz/Olivia relationship that has become its core – I am still as much of a fan as I ever was. At its roots, Scandal is a procedural; one that is obviously different from your run of the mill cop or lawyer show. The cases that Pope & Associates take transcend crime and are much more personal and they are generally "bigger."
The situation surrounding tonight's client fit that criteria from the start. Taking a bomb into a senator's office on Capitol Hill – while hopefully completely improbable – is something you are not going to find on Law and Order: SVU any time soon. But the story's resolution is when showrunner Shonda Rhimes kicked the story into overdrive. Is a mother's memory of her son worth risking the lives of 57 men and women who have put their lives on the line for this country? Whereas The Fifth Estate wimped out and did not give an answer, Scandal did.
I am impressed by the fact that Scandal didn't find a happy way out of reading the mother in on her son's heroism.
I am impressed by that. I am impressed by the fact that Scandal didn't find a happy way out of reading the mother in on her son's heroism. I am impressed by the fact that the story turned as dark as it did when the mother could not live with the "truth" that her country needed her to believe. Scandal has become an incredibly popular show in the past year, primarily – in this guy's opinion – because the show does not stop to take a breath. It plows forward from one storyline to the next with the speed of a horse and the nimbleness of a ballerina, with dialogue moving so quickly even Aaron Sorkin has to rewind to catch every nuance. It also has to do with the downright incredible performances that the actors on this show give – Bellamy Young's drunken Mellie this week is a perfect example of this.
But it is also successful because it is smart. There are a lot of smart shows on television, but few of them rise to the levels of popularity that Scandal has. Rhimes has found an incredible way to deliver honest, thought-provoking content in a package that feels like a rollercoaster. Sometimes you are enjoying the ride too much to realize what the hell just happened. This week she created a story that made me think more definitively about government secrets than a major motion picture about the subject did, and that is pretty damn impressive.
Photo Credit: ABC/Ron Tom