Silver Linings Playbook proves that sanity is overrated, but quirky romance isn't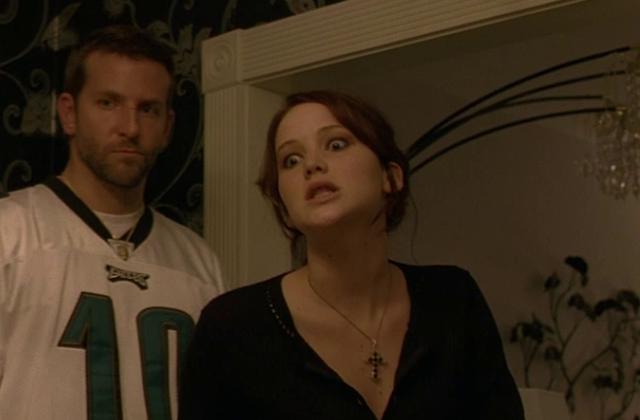 'Silver Linings Playbook' is an unconventional love story that hits all the expected beats, and twists them in amusing and interesting ways.
Finding connections is hard, but maintaining them is even more difficult. When you see yourself and your own problems reflected in someone else, friend or family, how do you react? With anger, sadness, denial, or self-reflection? Or love?
Silver Linings Playbook from director David O. Russell follows Pat Solitano (Bradley Cooper), just released on probation from a mental institution and back living with his parents, as his wife doesn't want to see him. His mother Dolores (Jacki Weaver) worries about her potentially unstable son, who has "undiagnosed bipolar disorder" and her also potentially unstable husband (Robert De Niro), a gambler with possibly OCD levels of "needs" to win the sports games he bets on. But Pat just wants to see his wife again because he thinks they still love each other just like before, despite evidence to the contrary. When a friend and his wife invite him to dinner, he meets another damaged person — Tiffany, played by Jennifer Lawrence. They both correctly suspect it's a setup, which annoys Pat, because he's already married, right?
The combination of acting and unusual characters turn it from cliched and cold into unexpectedly charming and warm.
So Tiffany, who's on medication herself and has a terribly tragic past, agrees to help Pat get back together with his wife. Show her that Pat's stable and healthy now, even taking his medication. And in exchange, he'll merely be her dance partner for an upcoming local competition. What could possibly go wrong? The movie goes through a few changes — it starts as a bizarre, quirky comedy about a messed up guy trying to re-enter society. This is the funniest part of the movie, but it quickly turns dramatic and dark, as Pat has difficulty becoming "normal" and his family has financial issues at the same time. Eventually it changes again, becoming a weird, offbeat romantic comedy with the same sorts of plot points you'd expect — but the combination of acting and unusual characters turn it from cliched and cold into unexpectedly charming and warm.
Bradley Cooper does a great job here, holding a nervous energy constantly, always seeming about to explode — a more nuanced character than he usually gets to play. And Jennifer Lawrence is phenomenal, vulnerable and furious, sexy and off-putting. It's hard to look away, and you don't particularly want to either. Jacki Weaver is great as the put upon matriarch just trying to hold her family together and Robert De Niro is similarly excellent as he's actually acting in this one. What a surprise! When you add a surprisingly not awful minor role from Chris Tucker as a friend of Pat's from the institution, this is a movie that starts weird — and ends weird but wonderful.
[easyazon-image align="none" asin="B0006TPE4M" locale="us" height="160″ src="http://ecx.images-amazon.com/images/I/61WF4JJ5H3L._SL160_.jpg" width="113″][easyazon-image align="none" asin="B004LOJPLQ" locale="us" height="160″ src="http://ecx.images-amazon.com/images/I/414TtBfKAhL._SL160_.jpg" width="107″]
Photo Credit: The Weinstein Company