"Sorry Please Thank You" by Charles Yu – Affecting and weird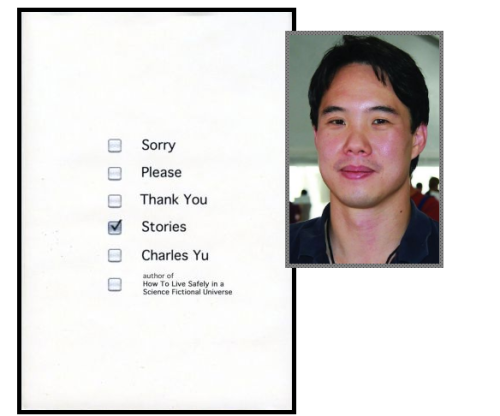 The new collection of short stories 'Sorry Please Thank You' by sci-fi author Charles Yu is a fun, somewhat dense read that tugs at your mind and heartstrings.
Charles Yu, the author of the bizarre self-insertion meta-fictional story How to Live Safely in a Science Fictional Universe, has returned with a collection of short stories in Sorry Please Thank You (2012). As if often the case with collections, the quality and enjoyment vary — and how difficult it is to get interested. How to Live Safely in a Science Fictional Universe was a fascinating and emotional look at a man's connection to his life, including intriguing explorations of time and self. And also about the virtual and literal distance between a son and a father.
But Sorry Please Thank You covers different ground, although there are some ongoing themes. In general it is a worthy read if you like explorations of fiction and science fiction beyond the normal sort, and some require multiple readings to really "get" them. It is best discussed on a per story basis (no spoilers):
This collection is a quick read that should get your mind thinking in odd directions.
Standard Loneliness Package — Decidedly sci-fi examination of pain, denial, and (perhaps obviously) loneliness. What if you could pay someone to experience your pain for you? At 30 pages, it's one of the longer ones, and probably one of the best.
First Person Shooter — Silly interlude about zombies that tries to get a bit deep, but its ultimately meaningless.
Troubleshooting — High concept take on what you really want. A bit oddly formatted, due to the nature of its concept. Ten pages long, and better on the second read through.
Hero Absorbs Major Damage — A twisted tale of the protagonist of a fantasy video role-playing game. What makes a hero, etc — that's the question that's considered. Half emotionally resonant, half ridiculous.
Human for Beginners — Cute little three page bit that's an overly technical (intentionally) explanation of your extended family.
Inventory — Tragic love story of a sort that's a self-examination in the same sort of self-insertion manner as How to Live Safely… A bit clumsily written at times, ponderously formatted into 40 pages of mostly white space.
Open — Interesting seven page story about the idealized versions of ourselves — and whether we that's something we could live with becoming and losing what we are now. All because a mysterious door opens to somewhere else.
Note to Self — Funny sort of back and forth between you and your alternate quantum selves, and what they might even mean. Cute and even a bit meaningful.
Yeoman — A satirical look at the classic "cannon fodder" character from sci-fi shows (like the Red Shirts on Star Trek) — from the perspective of one such fellow and his worried wife. Not exactly the most clever story in the bunch, but a lot of fun to read.
Designed Emotion 67 — The logical extension of current pharmaceutical trends: the monetizing and corporatizing of emotions. Too short to really do anything but just have a little bit on the idea.
Book of Categories — Extremely meta, cryptic, and dark non-story about an impossible book that is too big to read or exist. Hard to even read, let alone discuss — perfect for the pretentious sort.
Adult Contemporary — A meandering and dense story that's also about idealized lives and the story of our lives. And what we make of them — very meta-fictional, so it's hard to describe without spoiling it, unfortunately, but it starts with a man being offered a brand new Life (copyrighted).
Sorry Please Thank You — A sad farewell note that puts futility together with polite respectfulness. Odd note to end the collection, but it's almost an optimistic pessimism.
This collection is a quick read that should get your mind thinking in odd directions. Not as weird as his previous work, but it's plenty odd enough if that's your thing. And enough heart to get mildly depressed for a few hours.
[easyazon-image align="none" asin="0307907171″ locale="us" height="160″ src="http://ecx.images-amazon.com/images/I/31Rbap9a4lL._SL160_.jpg" width="100″][easyazon-image align="none" asin="0307739457″ locale="us" height="160″ src="http://ecx.images-amazon.com/images/I/51HXpmXb3GL._SL160_.jpg" width="104″][easyazon-image align="none" asin="0156030810″ locale="us" height="160″ src="http://ecx.images-amazon.com/images/I/51OF%2BBe92LL._SL160_.jpg" width="106″]
Photo Credit: Pantheon Books/Larry D. Moore