Retirement and crime collide in the very average Stand Up Guys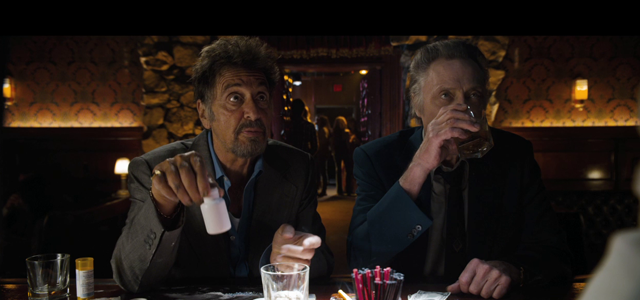 'Stand Up Guys' has some enjoyable moments (almost exclusively from Alan Arkin), but it's mostly a messy attempt at nostalgia.
Sometimes you have to make difficult decisions in life — prioritizing between work and home, friends and family, happiness and prosperity. And maybe you'll look back and wonder if you really made the right choice after all. What would it take to just give up — or are you really capable of such an act? Apparently even criminals sometimes have problems too.
In Stand Up Guys, Val (Al Pacino) was just paroled after serving nearly thirty years in prison, taking the rap for a murder charge. He has nobody on the outside other than his old friend Doc (Christopher Walken), who picks him up and gives him a place to stay for the night. But although it starts with Val just wanting to cut loose, hit a few bars and brothels, soon the sinister plot picks up. Val has a hit on his head from the still living mobster who was the father of the fellow gang member that died, and somebody will have to pull the trigger. So the two spring their only other friend, Hirsch (Alan Arkin), and head out for one last night. Then it's time for musings on life, mistakes, family, and a lot of mugging to the camera.
But with all this silliness and drama, it seems like the movie is just missing the point.
There's a lot of odd father-daughter relationship build up, all about estrangement, with Julianna Margulies as Hirsch's daughter who's now a nurse (which really just seemed like an extended ER reference), and a waitress who's basically Doc's surrogate daughter (or granddaughter, more accurately). Alan Arkin is the most amusing and interesting, giving a subdued performance most of the time and visibly being discomfited at some of the more stupid lines he's given. Pacino and Walken start out at their absolute hammiest, which thankfully gets a bit better. But with all this silliness and drama, it seems like the movie is just missing the point. What is theoretically a story about old men and how they deal with their mistakes as young men becomes a muddled crime thriller drama with odd bits of incongruous humor.
For example, did we really need so many wacky brothel scenes? And although it's fun to see Pacino and Walken kick a little ass at times, it becomes less and less believable, conflicting with the more realistic tone the movie tries for. Arkin is the best part of the movie, but he's also in it the least — seems a waste. With silly names like Val and Doc and over the top action scenes contrasting with attempts at legitimate feelings about death and usefulness, the movie just quickly fades into obscurity in the back of your mind. And the less said about the attempted empowerment subplot with avenging a rape victim, the better. Ultimately, it's nothing much at all.
[easyazon-image align="none" asin="B00005JLFT" locale="us" height="160″ src="http://ecx.images-amazon.com/images/I/51NGHBMNJSL._SL160_.jpg" width="121″][easyazon-image align="none" asin="B003FSTN52″ locale="us" height="160″ src="http://ecx.images-amazon.com/images/I/512h9O8UUyL._SL160_.jpg" width="112″][easyazon-image align="none" asin="B00AZMFORW" locale="us" height="160″ src="http://ecx.images-amazon.com/images/I/51PXVoH3uUL._SL160_.jpg" width="108″][easyazon-image align="none" asin="B00006JY5X" locale="us" height="160″ src="http://ecx.images-amazon.com/images/I/51XYHPTMK8L._SL160_.jpg" width="101″]
Photo Credit: Roadside Attractions