You'll fall in love with The Fault in Our Stars slowly, and then all at once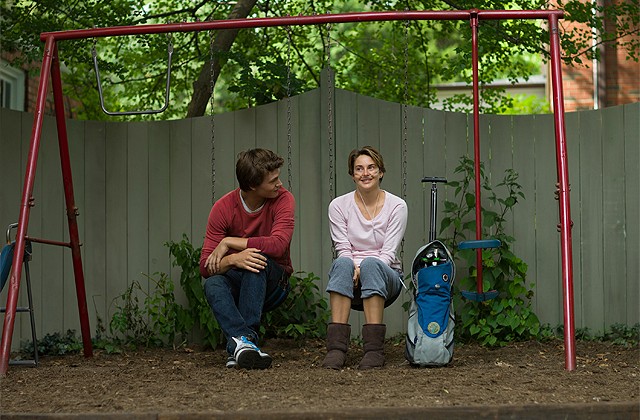 'The Fault in Our Stars' is already a best-selling novel. Will the movie add more fuel to the phenomenon?
Every now and then a story comes along that is so powerful that it becomes a phenomenon. The premise resonates so true with so many individuals, the characters are so completely and utterly captivating and the emotions are so raw that it simply can't be ignored. The Fault in Our Stars is such a story, and thanks to the movie, it is no longer limited to just the literary tween set.
Released by 20th Century Fox, based on the best-selling novel by Indianapolis author John Green, The Fault in Our Stars tells the story of two teenagers who meet at a cancer support group and fall in love as one would fall asleep, "slowly, and then all at once." The movie stars Shailene Woodley as Hazel Grace Lancaster (a 16-year-old girl who was diagnosed with Stage 4 thyroid cancer when she was 13; it spread to form a satellite colony in her lungs, which is why she has to travel everywhere hooked up to an oxygen tank) and Ansel Elgort as Augustus ("Gus") Waters (a 17-year-old boy with osteosarcoma in remission though it already claimed half his leg). I don't know that I've ever been as fascinated by a pair of young star-crossed lovers as I was with these two. They banter extremely well together using very grown-up words, poking fun at their medical conditions and how the world views them as "cancer kids." Their insights about life, love, death and how the world is not "a wish-granting factory" are at times funny and at times a bit morbid, but always right on the money. Frankly, I've never read a novel or seen a movie that dealt with cancer and children quite as honestly.
I'd just finished the novel the night before and was excited to be seeing this movie in the same theater Hazel Grace went to in the book.
An Indianapolis native myself, I'd just finished the novel the night before my advanced screening and was rather excited to be seeing this movie in the same theater that Hazel Grace went to movies to in the book (the theater at the Castleton Square Mall). It was surreal to read a novel and know exactly what or where the author was describing. One of my friends quipped that must be what New Yorkers feel like all the time. Maybe it's my Hoosier pride, but I immediately fell in love with three main characters in this story: Hazel, Gus and the city of Indianapolis itself. The city really came alive, and for the first time in a while, it made me proud to call it my home. I've shopped in the mall Hazel went to with her mom … I've picnicked at the Indianapolis Art Museum … I've shopped in Broad Ripple … I've even pumped gas and lived right around the corner from the gas station that Gus has a meltdown at towards the end. Because everything was so familiar, I think that helped me connect further with the characters.
I know books and movies are full of differences, and I'm usually on "the book was so much better than the movie" side of the fence. In this case, I think the movie stays pretty true to the book. Sure, they change minor details here and there such as Gus' age (he's 18 in the movie) or the fact that he comes to pick Hazel up to go to Amsterdam in a limo in a scene that reminded me of Pretty Woman. But I could live with all of that. Overall, I felt like they got the heart of the story right. The casting was great (Willem Dafoe is spot-on as melancholy alcoholic author Peter Van Houten, Nat Wolff is hilarious as Gus' best friend Isaac and Sam Trammell really shines as Hazel's father … Laura Dern does her best as Hazel's mother, though at times she grated on my nerves due to her over-optimism and the delivery of her lines).
I loved being able to see everything unfold similarly to how I had already pictured it in my head. The movie is well-paced, and I've fallen in love with a few of the songs on its spectacular soundtrack. The Amsterdam scenes are breath-taking, but my one major disappointment with the movie was the feeling that the primary setting was lost in the translation. Because it was filmed in Pittsburgh, the scenery rang hollow. The city of Indianapolis was all but left out except for a minor reference here or there, including the Pacers' Rik Smits jersey worn by Augustus in one of the most memorable scenes, and I couldn't help but feel that was yet another snub by Hollywood. It should have filmed on location – but maybe that's just me.
The crowd at The Fault in Our Stars was so quiet you could practically hear a pin drop.
Usually, there are many noises to be heard in a crowded theater. Inevitably, someone will be caught talking to their companion or even be rude enough to answer a phone call during said movie. However, the crowd at The Fault in Our Stars was so quiet you could practically hear a pin drop. It was as if we were all collectively holding our breath as we waited for each scene and piece of dialogue to unfold. Towards the end, one could hear a collective sniffling. Emotionally drained, I think thoughts were probably scattered all over the place in that theater. Cancer has touched so many people. Perhaps some of the audience members were suffering from cancer or had lost someone near and dear to them from the battle already. Perhaps some of them were lucky enough to be among cancer's many survivors and were counting their blessings. No matter what your story is, the ugly truth is that cancer has affected nearly all of us in some way or another.
So, when I looked over at my roommate and saw tears streaming down her face, I was slightly jarred. Naturally, I was crying already. But I wear my heart on my sleeve. If something strikes me as funny, I'll boisterously laugh my head off. If something makes me sad or angry, I'm quick to shed tears. But my roommate is what I would describe as a bit stoic for a woman and not easily impressed by "chick flicks." I fully expected her to make fun of the movie afterwards like she's done in the past. But this time was different. Even the man on my other side who had sighed exasperatedly on several occasions before the movie started (I think perhaps the tweens in the crowd were getting to him) looked a bit visibly shaken by the time the credits started to roll.
You, too, will fall in love with this story "slowly, and then all at once."
The Fault in Our Stars is such a story that it makes you stop everything you're doing or thinking about because "pain demands to be felt." The title appears to have been taken from someone else who knows quite a bit about pain and young star-crossed lovers: Shakespeare himself. (In Julius Caesar, Cassius notes, "The fault, dear Brutus, is not in our stars, but in ourselves.") However, the meaning in this version is quite the opposite: sometimes "the stars" (or fate) make plans against the individual's wishes. Is it fate that Hazel Grace and Gus came together and fell in love? Is it fate that the Hazel Graces and Guses of this world are cruelly cut down by disease in the prime of their lives? One is left pondering the unjust mysteries of the universe. One thing is certain though: You, too, will fall in love with this story "slowly, and then all at once."
Judging by the reactions I'm seeing and the buzz surrounding the novel, I'm predicting this will be one of the biggest movies of the summer. And (spoiler): if I choose to imagine a certain leather-jacketed James Dean-like Adonis with a cigarette hanging loosely from his lips feeling no pain and going on happily with the rest of his life, then that's my prerogative. Sometimes both fiction and non-fiction can be too cruel to bear.
[easyazon_image add_to_cart="default" align="none" asin="014242417X" cloaking="default" height="160″ localization="default" locale="US" nofollow="default" new_window="default" src="http://ecx.images-amazon.com/images/I/51IcTpOh-4L._SL160_.jpg" tag="cliqueclack-20″ width="108″] [easyazon_image add_to_cart="default" align="none" asin="B00JKJ1420″ cloaking="default" height="160″ localization="default" locale="US" nofollow="default" new_window="default" src="http://ecx.images-amazon.com/images/I/61NYL20marL._SL160_.jpg" tag="cliqueclack-20″ width="160″] [easyazon_image add_to_cart="default" align="none" asin="0525426094″ cloaking="default" height="160″ localization="default" locale="US" nofollow="default" new_window="default" src="http://ecx.images-amazon.com/images/I/51tdpYSnrRL._SL160_.jpg" tag="cliqueclack-20″ width="120″]
Photo Credit: Twentieth Century Fox