The Voice: Anyone want Adam Levine's cell phone number?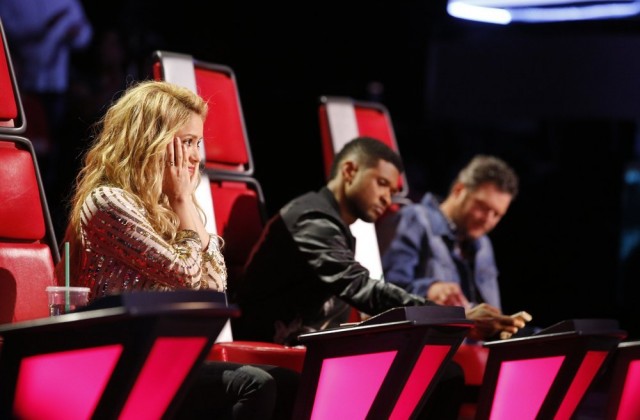 Week two of 'The Voice's live performances were a mixed bag, proving just how critical song choice is at this stage in the competition.
Update: Check the end of this post to see how each artist faired on the iTunes Charts.
Last week, my accuracy of predictions was all over the place. I had no clue that Josh Kaufman would be the runaway favorite, but he was the only contestant to get the iTunes Top Ten Chart multiplier. While the show has brought back the Last Chance performance to incorporate with the Instant Save, I doubt Tess Boyer – who was saved last week as Dani Moz (sad panda) and TJ Watkins went home – will live to see another week.
This week, the coaches have brought in "Titans of the Industry"(™ Carson Daly) to coach up the players. Adam invited Graham Nash, Blake brought in his producer Scott Hendricks, Shakira had busbee work with her team and Team Usher worked with his producer and musical director Natural.
The show opens with a performance by Rixton. I am rarely a fan of performances by other artists – especially on Monday nights. Heck, I'm not even a fan of the team performances on Tuesday nights (one of the reasons I rarely watch the results show). Thankfully they get it out of the way quickly, though I'd have preferred more time to discuss Blake tweeting Adam's phone number.
Kat Perkins: "Landslide" (Fleetwood Mac) – Team Adam
Nash has some wonderful things to say about Perkins, who predicts she'll have a hard time getting through the song without crying – she couldn't even manage her last cutaway. It's a brilliant song choice for her; the type of song where she can deliver a wonderful performance without going over the top.
So many of The Voice's "big" performances are characterized by crazy powerful notes, which is probably why Kat added it in here. I think it was a bad call; everything up to that was outstanding … the texture in Kat's voice is just fascinating to listen to. But the ending note, while very good, was completely unnecessary.
Tess Boyer: "Ain't it Fun" (Paramore) – Team Shakira
Again, as Tess was the artist that benefited from the Instant Save last week, she needed a game changing performance here. I'm not that familiar with Paramore's latest, but choosing a relevant pop song might capture some voters that she didn't get last week.
Blake said that he couldn't find anything wrong with the performance, and while I can't disagree, I'm not sure it was distinctive enough to bring a new following to the table. It's a shame, because I'm a fan of Tess, and think she's one of the more marketable contestants left in the game.
Audra McLaughlin: "You Lie" (Reba McEntire) – Team Blake
Audra is probably the best pure female country singer the show has seen in some time. The pre-performance bit stalks about a confidence issue that makes no sense to this writer.
I don't think most audiences will be familiar with "You Lie," but Audra killed it. Adam called it a "World Class vocal performance;" she was Reba-esque in every way she needed to be, while providing an original performance. If country fans buy into that performance – like we know that they can do – she could easily find herself near the top of the iTunes charts Tuesday at noon.
Photo Credit: Trae Patton/NBC
This Post Contains Multiple Pages: 1
2