Top Chef: Seattle – Likely incorrect predictions for season ten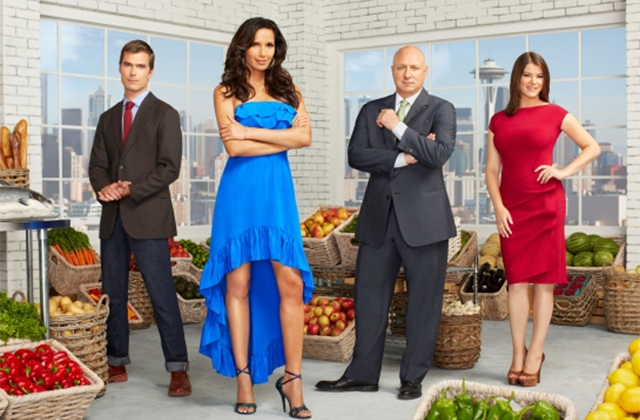 So another 'Top Chef' season is upon us, which means one thing for absolute certainty: Scallops, scallops, scallops! And maybe scallops.
Top Chef season ten is in the rainy city of Seattle, known for its coffee and … rain. Oh, and the Space Needle. Look forward to a challenge where the chefs must throw ingredients from the top into some sort of stew below! The first episode introduced us to a boatload (literally!) (not literally!) of conchefstants, impossible to keep track of as individuals instead of faces with knives attached. But now that we have our first "real" set of fifteen conchefstants version two, I am pretty comfortable making these predictions.

Bizarrely inappropriate but decorated chef Wolfgang Puck will continue to make sexist jokes and comments, moving on to racism so subtly we won't even realize it.  Oh wait, I forgot about his comments to Kuniko. I suppose he's already there. So I guess he'll just get worse. He's a great chef though, right?
Hilarious to watch Carla Pellegrino will accidentally injure someone in the kitchen, and then herself. She will then refuse treatment and pass out due to blood loss. She's got spirit, I can tell, which pairs well with her accent and clumsiness.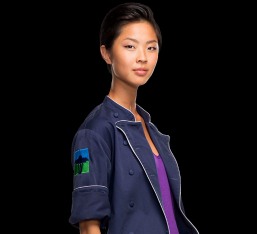 Hmm … Top Chef Model?
Former model Kristen Kish will be put in a position where she must act "like a model." Don't think Bravo hasn't already planned its "bikini chef" challenge, presided over by Padma and Emeril — enjoy that image!
The oddly named Jeffrey Jew will continue to make me wonder if I should be offended at his name, thereby ignoring his actual cooking. Hopefully I'll get past it.
The South African import Lizzie Binder will make a critical mistake due to her crush on Tom Colicchio, thereby disappointing him. Her greatest fear — but she'll pull through and get to make her family proud.


Expect host Padma Lakshmi to look really attractive in some sort of "this wouldn't work on any normal person" outfit.
Early promoted to executive chef Micah Fields will rue the day he skipped being a sous chef, as Emeril Lagasse will constantly make jokes about it. I have a feeling he'll still do pretty well at the actual cooking, though.
Kuniko Yagi will be the victim of racist and sexist bullying. A shame, but you can see it coming already.

Fire + Mustache + Knight = Top Chef Awesome
Fire loving Danyele McPherson will accidentally set fire to Josh Valentine's mustache when he over-waxes it — but Belgian Knight Bart Vandaele will bravely help them out, sacrificing his own dish in the meantime. He gets sent home, albeit with full Belgian honors.
John Tesar will become a redeemed villain, helping out a competitor and still winning a challenge.
The rest of the currently forgettable conchefstants will hopefully become interesting.

And finally, expect host Padma Lakshmi to look really attractive in some sort of "this wouldn't work on any normal person" outfit. Because some things never change.
[easyazon-image align="none" asin="B0085SAI06″ locale="us" height="160″ src="http://ecx.images-amazon.com/images/I/41nxxTbrRsL._SL160_.jpg" width="134″][easyazon-image align="none" asin="B0099SBC88″ locale="us" height="160″ src="http://ecx.images-amazon.com/images/I/51sBycccoWL._SL160_.jpg" width="132″][easyazon-image align="none" asin="0811869946″ locale="us" height="113″ src="http://ecx.images-amazon.com/images/I/41XprDCMCWL._SL160_.jpg" width="160″]
Photo Credit: Bravo TV