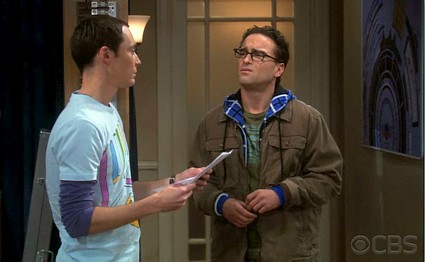 (Season 2, Episode 10 – "The Varabedian Condundrum")
Now, didn't I say I don't care for the character of Stephanie, Leonard's love interest and the implausible medical doctor on The Big Bang Theory? Guess what? I still don't like her. No, I'm not just jealous because she's sleeping with Leonard and I'm not. I'm not interested in Leonard. His eyeglasses are always askew. That would drive me mad. She just isn't believable as any sort of medical professional. In a show with such great casting, I'm disappointed.
Well, Stephanie has moved herself into Leonard and Sheldon's apartment. More precisely, into Leonard's bedroom. Of course, that makes Sheldon's world go a bit wonky and he has to get out the apartment pact (contract, whatever) that the boys signed upon moving in together. I'd like to get my hands on that thing. There are some very unusual clauses. But, according to the criteria laid out in the contract, Stephanie is definitely living there.
Penny concurred as she swept through Leonard's room. He was in denial until he realized his bat signal had gone missing. So, that's another implausible character thing about this Stephanie. We all know that Leonard's only true love interest would understand his quirks and leave his things alone. So it must be the sex. Er, yes … exactly.
The only involvement of Stephanie which I found redeeming tonight is when she gave Sheldon a "Sheldonectomy" by telling him his larynx was inflamed and he must stop talking immediately. Other than that, she was only good for sex.
Cute bits:
When Leonard was trying to explain Penny to Stephanie and mentioned he sometimes eats cereal at the Varabedians in his pajamas. He was making it up, but Sheldon felt shunned by said Varabedians. I think he should show up there in his pajamas, don't you?
Sheldon's usual knocking on the door, then saying "Penny" being replaced by his computer because he was scared to talk.
Leonard's scratchy wool pants and how he destroyed them in the washing machine.
I'm hoping that Stephanie will go away soon. Heck, let her give Raj lessons so she'll be a more minor character if she must stay. She's living in my show! I wasn't ready for this yet. Shouldn't we take this just a bit slower?
Photo Credit: CBS