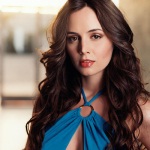 The countdown to the premiere of Dollhouse keeps chugging along. We're inside of a month now, and with the TCAs underway, the press machine is firing up. Over the past few days there have been a number of stories flying around the internet, each signaling a different vibe.
Let's start with the good news, and work our way to the strange. FOX's Entertainment President, Kevin Reilly, had gone on record before saying that the pairing of Terminator:TSCC and Dollhouse on Friday was an effort to build a new night of programming. Many of us shrugged our shoulders at that, and I'm still hesitant to call it sound reasoning. But Mr. Reilly does have some good news to add to that. He was quoted at the TCA panel saying, of Dollhouse, "we're going to let the show play out for 13 episodes and hopefully it will catch on." It certainly sounds like the show is at least going to get to run its full compliment of episodes. Tim Minear won't know what to do with himself.
Moving on to the expected, Joss Whedon appeared at the Dollhouse panel, and reiterated the points he had made before. The replacement pilot isn't network interference, and he's excited to be paired with Terminator:TSCC on Friday. He adds that the lowered expectations from the network that come with the Friday spot take some of the pressure off of the show. Nothing too exciting, but he is saying the right things, and more importantly, it sounds like he's excited about the show they are making.
And then, there is the strange. Peter Liguori, Chairman of Entertainment at FOX, talked with Broadcasting and Cable about a host of topics. It's a good interview that covers the return of Idol, NBC's Leno shenanigans, the success of the CBS lineup, and how Fringe has performed. For our purposes here though, the bit about Dollhouse is what stands out.
Asked if the show is as bad as we've heard, he responds, "Joss Whedon has an unbelievably loyal fan base, and he really knows how to write to that fan base. I expect that they're going to be there. They're going to enjoy his show. One of the things about airing on Friday night, a show is not expected to have those boffo ratings." That struck me as a little strange. Granted, it was a loaded question, but not completely out of line given the press the show has had to date. Still, he doesn't manage to say one word about the show actually being good. Whedon fans are going to like it. Duh. If anyone should be blindly defending this thing, this is the guy.
It gets stranger though. Asked about the Friday time slot, Liguori responds, "No, I'm not burying him in the Friday graveyard. I'm giving him a little bit of a reprieve by being on Friday." Now, maybe it's just a poor choice of words, but reprieve? That implies that a decision was already made to do something bad to the show, but now they are giving it this one last chance. Way to spin it Pete! With friends like these….
Finally, a bit of my own speculation that I think brings us full circle, back to good news. I mentioned in this week's ratings post that Flashpoint joined the CBS Friday with over ten million viewers. In the comments, bsgfan2003 expressed concern over that number, as many have. That's understandable, as I would put ten million viewers at the high end of Dollhouse expectations. Finally something that makes us long for the days of The Ex-List and their five million viewers. There is an opening though.
While Flashpoint fits right in with the other CBS shows where viewer numbers are concerned, it did premiere with a relatively low demo number, 2.2. To put that in perspective, Terminator:TSCC has spent most of the season right around that low 2 demo, while managing between five and six million viewers. If Dollhouse is to see a second season, that's the number to watch. Flashpoint can take the viewer crown, but Dollhouse has to win the night in the demo, and, good news, it's totally possible. I'd be shocked if the premiere didn't win the night. After that, it's just a matter of getting people to stick around.
Photo Credit: FOX