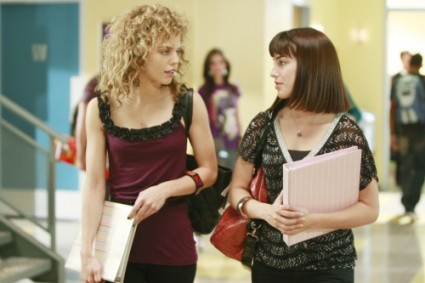 (Season 1, Episode 14 – "By Accident")
I call bullshit on this entire episode. Yes, I know that this is a teen drama, and not a particularly good one at that, and with teen dramas, especially ones that aren't particularly good, there is a need for suspension of disbelief. But come on. Adrianna's entire pregnancy storyline is completely ridiculous.
I find it interesting that people can always talk about getting abortions on TV and in the movies, but when it comes time to actually go through with it, they find that they just can't. Fine. I can buy that. But when Adrianna tells Naomi that she can't have an abortion because she's too far along and that it's illegal, that's where I draw the line.
The timeline is a little fuzzy on Adrianna's pregnancy, but regardless: she weighs like 90 lbs. If she was actually so pregnant that it's against the law for her to have an abortion, her stomach would not be concave. She would have a baby-shaped bump in between her ribs and her hips. However, she does not. I know all women gain weight differently during pregnancy, but you can have an abortion up until about 6 months in California. She is not six months pregnant!
Speaking of inaccurate information, when Adrianna first found out she was pregnant, she said she didn't know who the father was because she was too coked up and did it with a lot of random dudes in a short period of time. Then, apparently, she figured out it was her rehab boyfriend, Hank? Except that it's not because it's actually Ty? Come on. That is nothing more than a stupid plot device to cause future trouble with Annie. This is seriously the most annoying storyline ever.
Speaking of Annie, can I just say how terrified I am to see her act in the school play again? At least she's not singing, so we won't have to watch her throw her body around the stage like she's feeling the spirit at a Pentacostal church, but there's something about her and theater that makes all of her facial tics go into overdrive. It's really distracting to watch.
One thing that did make me happy this episode was Dixon and Silver's relationship finally coming to an end. Those two bore me and I was growing weary of them as a couple. The breakup scene did raise a question for me though. I've been broken up with a few times, but never have I had a guy say, "I'm breaking up with you." Usually it's some variation of, "this isn't working out," or, "I'm in love with someone else," or, "what are you doing in my closet?". But "I'm breaking up with you?" That just made me laugh.
Other items of note:
Was there any real point to the thing with Naomi and her dad? We already knew that he couldn't keep it in his pants. Naomi lives in a hotel now. Okay; I don't really think we needed so many scenes to get to that point.
I said last week that I wanted Ryan to come back, but maybe I was wrong. I don't like sad-sack Ryan. He kind of bummed me out. Although he was totally right to get Silver out of his class. I would think it would be difficult to teach someone who publicly called you a pedophile. He probably should have kept her out of his class.
Do you think anything is going to come out of Ethan's car accident? Is he going to be mangled or dead? That would be exciting, but I'm sure he'll be fine in an episode or two.
Photo Credit: CW