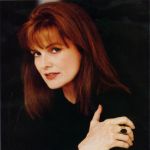 My life was in flux during the 1990s. Fresh out of college, I ended up working in an office (but knew I was destined for greatness), and my husband and I wandered gypsy-like between homes while we were building our own high on a hill overlooking Lake Michigan.
One of those places was his grandparents' home, then used as a vacation  pad by downstate family members. No one was supposed to live there full-time, so it was all very clandestine that we were there. Plus, any time family came up from downstate, we had to vacate the premises, often on the spur of the moment. It was quite adventurous and thrilling, though we didn't think so at the time.
So what does my story have to do with The Days and Nights of Molly Dodd? Because his grandparents' place was the first house I lived in with cable TV, and I was astounded by the number of channels out there. Not only did I find TVLand and MTV, but I also found Molly Dodd on Lifetime. It was like a beam of heaven's light burst through the clouds of network TV and illuminated a whole new world.
So I started watching Molly — in between vacating the premises — and was instantly hooked. You can imagine how thrilled I was to see the show's star, Blair Brown, pop up on Fringe, one of my new favorite shows this season. Molly Dodd earned her five Emmy Award nominations as Outstanding Lead Actress in a Comedy Series, one for each year the show was on. Creator Jay Tarses was also the recipient of multiple nominations.
The Days and Nights of Molly Dodd began as a mid-season replacement on NBC in the summer of 1987, on Thursday nights between Cheers and L.A. Law. Its first season included 13 episodes, and it was again a mid-season replacement on NBC in the spring of 1988 in the same time-slot. Another 13 episodes were shot, but NBC passed on the show for the fall season. It was then picked up by Lifetime, which re-ran the first two seasons, then ran for three more years with 13 new episodes in each season. All in all, it ran for five seasons with a total of 65 episodes.
Here's the thing. While I was living a life of flux and office boredom with a foot in both Yuppie-Land and Hippie-Ville, so was Molly. Only I was in Northern Michigan, and she was on the upper west side of Manhattan. Just goes to show that people are alike all over this planet.
The show was equal parts Mary Tyler Moore and Sex and the City, following Molly as she navigated through life as a divorced, 30-something poet, singer and pianist who held assorted jobs throughout the series.
The fact is, she wasn't really sure what she wanted to do with her life, but managed to be funny, smart, artistic and emotional, all at the same time.
Other players included Allyn Ann McLerie as Molly's mother, James Greene as her building's elevator operation/doorman (the most constant man in her life), William Converse-Roberts as her ex-husband Fred Dodd, and Maureen Anderman as her best friend Nina.
Sandy Faison was a cast member during the show's NBC run, and actors David Strathairn and Richard Lawson each appeared in about a third of the episodes (both as romantic interests for Molly). Other recurring players included Victor Garber, Richart Venture (who played Molly's father), George Gaynes, John Pankow, and J. Smith-Cameron.
The show included a steady stream of now-well-known actors, including Nathan Lane and Gina Gershon. Wesley Snipes and Samuel L. Jackson actually appeared as party guests in the same episode.
The show's music was fantastic, and one of my favorite episodes involved Molly singing a beautifully torchy song.  The name of the tune escapes me, but I remember looking it up and finding a recording of it at the time. Seems to me she sang it in her jazz-musician ex-husband's warehouse-type apartment. Please enlighten me, if you know which ep/song I'm talking about!
The episode titles all began with "Here…," which was quite the metaphor for my life at the time. Titles like "Here's Why You've Gotta Bake a Batch of Cookies Every Once in a While" and "Here's a Bunch of Photos From an Old Album" and "Here's a Good Reason to Check Your Answering Machine on a Regular Basis."
The Days and Nights of Molly Dodd hasn't been released on DVD yet, but I'm hoping it's just a matter of time. Here's a not-very-good clip of the opening sequence below (which, by the way, also made an impact, since I'm a jazz violinist).
How about you? Are you a fan of The Days and Nights of Molly Dodd? I'd love to hear your memories of the show.
Photo Credit: NBC