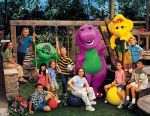 My oldest daughter is 8 years old. In the current era of child development this makes her something like 14 or 15 years old. So she is definitely into the newest generation of teen and young adult stars gracing the Disney Channel and Nickelodeon airwaves. We're talking your JoBros, your HannaMos, your SelinaGos and your NakedBros. For the non-'tween parent I'm talking about the Jonas Brothers, Hanna Montana, Selina Gomez and the Naked Brothers.
Lately my daughter has been obsessing on DemiLo, also known as Demi Lovato, the star of last summer's Camp Rock and current comedy Sonny With a Chance. This obsession comes complete with a need to know everything about Demi. Where else to get this data other than the teen magazines that crowd the racks along with Time and Jugs? My daughter's favorite right now is J14, which is somewhere between People and The Star.
The most recent issue featured a 'Before they were stars' segment showing the current allotment of adorable teen stars as adorable little kids. For the most part it was fairly mundane since these stars really haven't changed much over the last few years. However, there was one photo displayed of a young Demi Lovato that piqued the interest of not only my daughter but my wife and myself. For, you see, before she was friends with the gang at Camp Rock and So Random! she was pals with a large purple dinosaur.
To be more precise, a large purple dinosaur named Barney. Lovato appeared as Angela in seasons seven and eight of the popular PBS series Barney & Friends. For those of you who are more familiar with the settings of each season rather than the actual number, the seventh and eighth seasons were the first to take place in the public park with the caboose clubhouse instead of the grade school and treehouse that were the setting of the show for years. Lovato was part of a brand new cast of friends for Barney after the old group began to grow beards and boobies (the guys grew the beards, just to be clear).
Those of you who watched those early 21st century shows are probably scratching your collective heads right now trying to remember what Demi looked like on Barney. It would probably be a bit tough since she looked and sounded much different on the show than she does now. Even though she had the long hair that she sports now it was pulled tightly back on her head. Plus, she wore a pretty thick pair of glasses. Unless you got close to the TV screen and squinted really hard you probably wouldn't know it was her. Just take a look at the below video for proof.
While you're looking for Angela also take notice of a little girl with slightly wavy, black  hair named Gianna. Look familiar to you? Well, if your 'tweens and teens are fans of The Wizards of Waverly Place she certainly would. That's because little Gianna is none other than Disney Channel star Selena Gomez. Both Gomez and Lovato began their acting careers catering to Barney's every whim and have remained very good friends ever since.
So, what can we learn from these revelations? One is that being on Barney & Friends was not a true career killer as some have said (well, as I have said). Another is that there are still cases where your children will grow up along with their favorite kids stars. And a third thing we've learned is… well, I only had two things. What do you expect? We're talking about teen stars here! They'll either thrive as they get older or end up shaving their heads and letting their infant children drive their sports cars.
Photo Credit: PBS