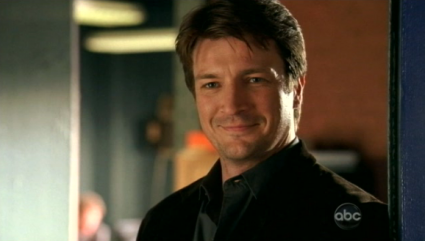 Did you catch the premiere of Castle last night? Deb and I caught it and what appears to be the third episode of the series, titled "Nanny McDead." She posted her reaction to the show already, and mine's not much different: this show has hit potential. A lot of people are comparing it to Bones, and I can totally see where that's coming from. However, the show is very different enough that any Bones haters should be giving it a try. And what Bones lovers wouldn't like Castle if it's got a hint of a premise they already enjoy?
I lost interest in Bones early on, though I hear from many people that it's gotten a lot better. Castle has a premise that I like a lot more on paper than Bones, and I've been more a fan of Fillion's work than Boreanaz. What set me over the edge with Bones was the hokey technology used by the science team which, again, I'm told isn't as prevalent in the show these days. Unlike with Bones, so far Castle relies heavily on the male and female leads, not giving as much time and attention to Beckett's fellow officers, though there's a lot of Castle's personal life thrown in that give him more dimensions than just sexist author.
From the first episode, the thing that told me that I'd like this show was a scene so short yet so effective: Castle's standing poker game with James Patterson and Steven J. Cannell. It was an excellent way to show the viewers that Castle is considered a successful author to the likes of these two guys, and the banter amongst them was something I'm sure made any fan of either author squee in delight. Unfortunately, there's no poker game in episode three, though I have to imagine we'll see more later, and possibly (hopefully!) with other notable authors like Stephen King.
What did you think? Is it so-far low on your viewing schedule, a guarantee watch or are you already done with it and not bothering?

Loading ...
Photo Credit: ABC