Ah, Ziva David, what is going on in that crazy little head of yours? We're trying to figure out if you are an Agent, or if you are an Officer. Frankly, I'm trying to figure out what the difference is. I guess the root question, really is where her loyalties lie. And when I say loyalties, I'm not just referring to NCIS or the Mossad, but to the men that make up those organizations, including Gibbs, her father, and, most importantly in my eyes, one Anthony D. DiNozzo.
I'll be honest. It took me a long time to come around to the Ziva bandwagon. The death of Caitlin Todd was very sudden (for those not spoiled). I've been a fan of Sasha Alexander for a while, and I was not looking forward to her replacement, especially when they turned out to be such different personalities. Eventually, though, I warmed to her, mostly due to the interesting relationships she developed.
Ziva and Gibbs. I would love to say that they got off to an interesting start, but I truthfully still haven't wrapped my head around their relationship. Ziva killed her brother Ari to save Gibbs. We the audience knew that Ari was a pretty bad guy, definitely a few crayons short of a full box kind of thing, but what does it take for a sister, half or otherwise, to make that leap of faith so quickly? Ignoring family is a big thing, especially when that family includes a father/boss who happens to be the Director of the Mossad. We've recently learned that he controls every detail of what his Officers do, so what exactly does that infer about Ari's missions?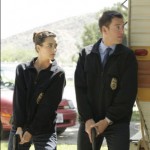 Father figures, real and adopted, have a great deal of influence, but I think its much more interesting to look at her relationship with Tony. He's such a fun kind of guy, how could you not like him? It became increasingly apparent over the course of the fourth season how Ziva's feelings for Tony have deepened. I think its obvious how much they cared for each other (even during the whole Tony/Jeanne thing). Since then, though, they have seen some bumps in the road, most notably (and recently), Tony killing Ziva's boyfriend. Where will these two end up?
It was Ziva's distrust of Tony that got her left in Israel. And thus, it also had a lot to do with the getting sent to Africa thing, and probably the torture stuff as well. She is in a tough spot now, but I'm sure someone will come to the rescue soon enough. Who will that person(s?) be? NCIS or Mossad? Daddy or Tony? Should the rescuers deserve the loyalty, or should it be Gibbs and Tony regardless?
Photo Credit: CBS.com