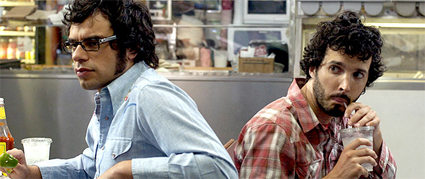 Emmy nominations have been announced, and, while there are the usual Tina Fey and Steve Carell nods, a few surprises have been thrown in. One of the most unexpected performance nominations went to Jemaine Clement, for his work on HBO's Flight of the Conchords. Sure, the inclusion of Big Bang Theory's Jim Parsons was pretty surprising too, but at least that's under the CBS monster. Upon reading about this sneaky nod to Clement, my heart stopped, I made my voice heard on Twitter, and then I sought medical attention for my failing heart.
I haven't bothered to get my hopes up, because, really, he has slim chances against heavy-hitters like Carell and Alec Baldwin. Don't get me wrong: I love Clement's work on FotC, but considering the big-name competition, and the slightly rushed quality of the second season compared to the first, things don't look good. Of course, one could always refer to Ricky Gervais' wild Golden Globes double-win a few years back, but, keep in mind, that was The Office, more or less television perfection (I'm not biased; not at all).
Regardless of what happens, we should definitely celebrate the fact that Clement was nominated at all, for it is a testament to all the musical, deadpan goodness he's put into the series. Meanwhile, Bret McKenzie continues to prepare his lasagna for one.
Just for kicks, here's one of my favorite FotC songs.
Aww, heck. Have another.
Photo Credit: HBO