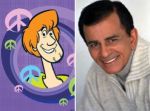 Voice actors … the unsung heroes of cartoons produced for television. Since the first  Crusader Rabbit aired in 1949, these folks have tirelessly voiced millions of characters, in thousands of cartoons, sometimes doing more than one voice in each cartoon. Yet, unless you stared at the closing credits, you never really knew who these people were.
Still, there are a handful of actors and actresses whose names we do know. Like Mel Blanc, who voiced Bugs, Daffy, Porky, and Barney Rubble. Or Daws Butler and Don Messick, who voiced practically every character in Hanna-Barbera's library. Or June Foray, who voiced Rocky the Squirrel, among others. 
Then we have Casey Kasem — a man who voiced two of the longest-running characters during the heydays of Saturday morning cartoons. With the recent retirement of Casey from his countdown radio show, I thought I'd take some time to talk about the many cartoon voices he provided over the decades.
Long before he became a familiar voice to the sugary cereal set, Casey was a popular West Coast DJ. During the 1960's, he worked at classic stations like KYA (San Francisco), KEWB (Oakland), and KRLA (Los Angeles). In 1970 he took those disc jockey skills, combined them with a countdown format, and gave the world American Top 40, where he served as host for over 30 years.
It was during the late '60s that Casey entered the acting world, in such memorable films (for those with a short memory) as The Girls from Thunder Strip, The Glory Stompers, and Wild Wheels. While he was struggling with his on-screen acting career, his off-screen voice career began to take off at the same time. It began with a role as Robin, The Boy Wonder, in Filmation's The Batman/Superman Hour (1968). Though Filmation's version of the Batman franchise lasted only a few years, Kasem would reprise his role as Robin when Hanna-Barbera paired him and Batman up in 1973's SuperFriends. Casey would continue to voice The Boy Wonder for 13 more years.
httpv://www.youtube.com/watch?v=XHHqz084ZYE
A year later, Kasem's workload quadrupled, with four new voice acting roles. In both Skyhawks, and Hot Wheels, Kasem portrayed forgettable characters. Same goes for his role as Groovy on The Cattanooga Cats Show. In fact, the only thing memorable about his role on Cats was that it was his first appearance (Saturday morning schedule-wise) on a Hanna-Barbera cartoon.
Then there was Casey's role as Norville "Shaggy" Rogers on a little known cartoon titled Scooby Doo, Where Are You! Out of all the characters Kasem voiced, Shaggy is the most well-known, and longest-running, he is connected to (next to, probably, Robin). The lanky and laid-back Shaggy was a perfect match for Kasem's lightly gravelly, and slightly high pitched, performance. And, who else could exclaim "Zoinks!" with such attitude? 
Casey has been the voice of Shaggy for nearly four decades (with some breaks for people like Billy West to help out), and has been a part of every single reincarnation of the Scooby Doo franchise, including the short-run Shaggy & Scooby Doo Get a Clue! (he was Shaggy's Uncle Albert).
In addition to his role as Shaggy, Kasem has lent his voice to other well-known characters, such as Alexander Cabot on Josie and the Pussycats (which made for interesting viewing when Shaggy and Alexander got together on The New Scooby Doo Movies), Mark on Battle of the Planets, and Cliffjumper on The Transformers. On top of that, he's lent his voice to dozens of cartoons. For example, Hong Kong Phooey, Emergency +4, Tiny Toon Adventures, and 2 Stupid Dogs.
httpv://www.youtube.com/watch?v=MhIG_tSfk1s
His most recent venture, Scooby Doo and the Samurai Sword, showed that Casey hasn't lost his touch, even at the young age of 77. So, thank you, Casey, for many years of memories that we will pass on to our children. Here … have a Scooby Snack on all of us.
Photo Credit: unfabulouz.com