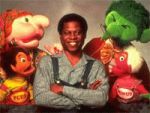 The following post is dedicated to my friend Dan, who decided to post a clip of this show on Facebook and open that portion of my brain that actually remembers this program. I don't know if I should thank him or curse him for pulling out another repressed memory.
I'm about to talk about a series that, at first, you may not remember. However, as I press along and show a few videos, I'm sure you're going to slap your heads and exclaim, "Holy Hannah, I remember this show!" Soon enough, the theme music to this program will seep through your brain, opening up passages that you thought closed for decades. It is then that you will either rejoice in the fact that I'm writing about this show, or scream in agony at the fact I made you remember.
And now, let's talk about Pinwheel. I'll wait for your rejoicing and screaming.
Since all you probably remember of this show is its infectious theme song ("Pinwheel, pinwheel, spinning around. Look at my Pinwheel and see what I've found…."), let me fill you in with a few facts. Pinwheel began its run on the Pinwheel channel, which was to become Nickelodeon, back in 1979. The show was similar in scope to Sesame Street, with humans interacting with puppets in between various animated segments. The main action took place at the Pinwheel Playhouse — a location, according to one of the members of the Pinwheel family, on the backroads of your memory, in the magical corner of the Imagine Nation.
httpv://www.youtube.com/watch?v=aThn0HVcglQ
The warm-blooded side of the cast included Jake and Kim, who hung out with the  Hobo bugs, and did a good deal of singing; Smitty and Sal, who ran the Daily Noodle newspaper (which has probably gone out of business in today's ever-shrinking print world), and Coco, a mime who never talked, and scared all the young viewers. Because, let's face it, mimes scare everyone. On the felt-and-button side of the cast you had Plus and Minus, the pseudo Bert and Ernie of the show who had their own detective agency (Ernie had a lousy rubber duckie); Molly, the blind mole that lived in a tree in the yard of Pinwheel Playhouse; Ebeneezer T. Squint, who was this show's equivalent of Oscar the Grouch, and Admiral Bird, who was kind of like the Road Runner … in a puppet sort of way.
What made Pinwheel so special was its animated segments. Coming from around the world, these featured various forms of animation — cartoons, stop-motion, claymation. Heck, if the show had gone into the 90s, I'm sure viewers would've seen some early computer animation. Regular features included Chapi Chapo, a French stop-motion series featuring two characters who wore big hats; an earlier, cartoon version of Curious George, and the classic Simon in the Land of Chalk Drawings. Bill Cosby, then slumming between Fat Albert and The Cosby Show, made numerous appearances in his Picture Pages segment.
Pinwheel ran forever on Nickelodeon. Well, forever in today's short attention world of television. Spanning 260 one-hour episodes, the show ran on the network for 10 years, making it the fourth longest running show on Nick (a certain green slime-based show took its place). Most days, it ran from 9:00 am to 2:00 pm, which gave parents plenty of time to do their housework while their young children stared in wonderment at the show.
As with so many other childhood shows you grew up with, Pinwheel is not available on commercially-produced DVD. However, there is a good bit of show material on … you guessed it; YouTube. So, if you're hankering for some Picture Pages or Ebeneezer T. Squint, you may want to saunter over to the Internet's Attic to jog your memory, and relive some more innocent times. That, or scream in pain as you relive those nightmarish days when Coco made you wet the bed.
Photo Credit: Forgotten Nickelodeon