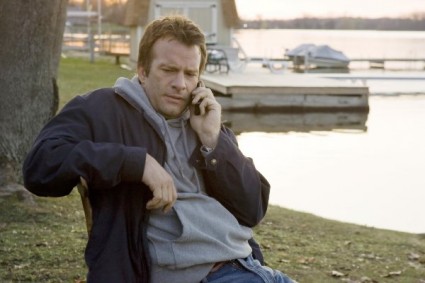 "Shit, Ray, that is one beautiful penis." – Ray's female neighbor
So … Ray's neighbor — the wife, not the husband — finally gets to see the penis, and that's her reaction. And WE almost got to see it, too, just a Couple. More. Inches and we would have seen at least part of it, which I'm sure is lovely. And unless he was stiff when he came out of the shower, it seems clear that he's a "show-er" not a "grower," as some have speculated in my Hung reviews here on CliqueClack.
Anyway, that's what, uh, popped out at me about this episode, along with the fact that Ray is in a bit of a precarious situation, wanting Jemma to be his girlfriend instead of his client. What happens when a hooker falls in love with his or her client? I guess we'll find out.
Maybe some hookers can weigh in here. I would think if you're a "professional" who's been doing it a long time, maybe you nurture the relationship along, while still having sex with your clients. It all sounds very weird.
And how fun to see Rhea Perlman as Tanya's mom!
Photo Credit: HBO