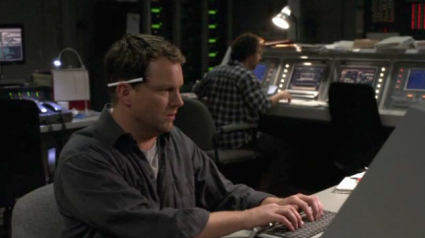 Friday night, Canada's CTV aired the ninth episode of Defying Gravity, an episode we in the U.S. may not ever see until the series makes its way to DVD. By other means — be it via a friend with a SlingBox or dowloading via torrents — some of you may (or will) get a chance to see that episode and the few more to follow. For those who were hanging on just to know what this "Beta" thing is, well, I'll go ahead and tell you.
SPOILER ALERT! If you continue reading on or even looking below, you're basically at risk of having the gist of the entire episode revealed to you, including what Beta is, how they have it and what it means for the rest of the show!
Seriously! Don't complain now if you read on further! I used bold above on purpose!
Alright, here we go. In the episode titled "Eve Ate the Apple," we get a quick flashback to 15 years prior to the Antares mission, where a couple of guys at an observatory catch an intelligent signal from space, all very Contact-like. It turns out this signal — more of a sound, really — is coming from the surface of Mars. As that signal is going off, they track a similar one coming from the surface of Earth in reply, from somewhere in Peru. As they are tracking these sounds, they label Mars as "Alpha" and Peru as "Beta." There you have where the name came from.
Cut to Eve Weller-Shaw, on a humanitarian mission in Peru. She can't sleep at night and figures out that it's because of this music she's hearing that nobody else can hear. She sets off at night, on foot, to find the source of it. It turns out it's underground and she starts to dig for it. Suddenly the U.S. military happens upon her, takes her in and hears her story. They ask her to show them where this sound is, as it's clear they are there to find it as well. The soldiers begin to dig and then, out from the ground, comes tiny Beta, hovering in the air and glowing golden.
The crew of Antares enter Pod 4 and find seven smaller pods inside. Only one pod is glowing, and they open it to reveal Beta: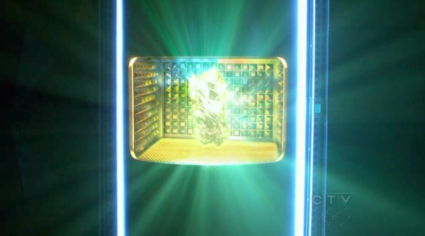 It's sorta swirling around in a very fractal way, folding into itself and singing a whale-like song. All of the crew can see and hear it … except Jen. And she doesn't tell anyone that she can't. Meanwhile, as they approach Venus, they can hear a similar sound coming from the outside of the ship — from nearby Venus (it's noted that sound in space is impossible, but that this is "new science" they are experiencing now.)
The team then learns their real mission, from Goss. There are seven of these things total, in our solar system. There's Beta, from Earth, and Alpha, from Mars. But there's been signals detected from Venus, Mercury, Europa, the rings of Saturn and Pluto. They are out to retrieve them all, and the only reason for doing so is that it's what they feel compelled they need to do — that these things (which we learn are organic but not made of any elements known to man) need to be collected and brought together in order to know their true purpose.
Meanwhile, we learn that the Mars mission Donner, Shaw and Goss were on together was actually to retrieve Alpha, and at least Donner and Shaw didn't know that at the time.
That's pretty much all we know at this point. They know that, should this news get out to the world, there could be riots in the streets not only from the thought that alien life was discovered, but that trillions of dollars were spent on this mission that has no clearly defined purpose or goal.
What I really dug about this episode was that the plucky, awkward Grey's-like stuff wasn't present. We had a good dose of science fiction and a feel for how grand this mission (and this show) could be, if we got to see it all develop. As Ivey said last week, these people are all changed now, and any of that kooky crap that turned people off from this show before is probably all but gone.
I honestly think this show could turn out to be a hit on another network, with some tweaking. While the science isn't completely authentic feeling, I give the writers big props for filling in every hole they can, no matter how odd it may seem, like the floating hair and degraded communication signal. ABC not giving it a further chance doesn't mean it couldn't thrive elsewhere.
Dare I say this episode was where Defying Gravity Blew the Hatch for me? I might.
Photo Credit: CTV