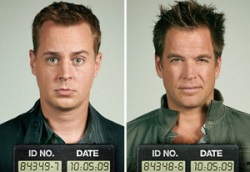 So, is Ziva back on the team? Did NCIS deal with the glaring hole in the story, that Ziva has yet to deal with the Mossad and her father? Are Ziva and Tony an item? Is McGee ever going to pen another novel, and will it appear in stores ala Hank Moody (Californication) and Richard Castle (Castle)? Has Gibbs started his new boat? (Speaking of, I read that his old one will make a reappearance yet this season….)
Okay, so those are also some of my more general questions, applicable at any time throughout this season. As to episode specific? As expected, Ziva's situation was addressed, if not clarified. But I strongly disagree with how nonchalant the writers appear to be about the whole thing — I still don't see how she even has the clearance to enter the Navy Yard.
This week our agents were on the hot seat, with the death of a blogger — who was recently criticizing their handling of a case — pointing suspicion in their direction. The most notable thing about the case (not that it was bad, just secondary) was that no Ziva meant all McGee and Tony all the time, which is some extremely funny TV. Ziva, meanwhile, was desk-bound, as she awaited her "status clarification." Huh?
It was also funny that, since NCIS was a prime suspect, Gibbs and company were playing keep-away with the Metro cops, instead of fighting over turf. By the way, has Gibbs ever visited "the Net?" Tony fleeing before the detectives showed up to question the former judge was cute, too.
A fleeting classic moment: Abby in the horrid red NCIS overalls, down in the garage. I find it interesting that she does forensics on computers and in the motor garage. Weird combo, although it's also always strange to see McGee take the lead on computer work in Abby's lab. I guess everyone has their strengths.
Amidst all of these good NCIS moments Ziva remained in the background. It wasn't until the very end of the episode, as she sat down to write a "Dear Father" e-mail, that the writers finally came around to addressing her big question marks … by having her "decide" to be an NCIS agent. She resigned from the Mossad (okay, although via e-mail?) and is filling out the paperwork (Really? That's all a former foreign spy needs to do?) to be an agent. Will Gibbs or won't Gibbs (sign) is actually not such a big cliffhanger….
The cliffhanger is, will the writers take this issue seriously, or won't they. I hate to say it (again), but this entire thing makes me so wish she would just up and disappear — or that she'd have died over the hiatus at the hand of terrorists. And that from someone who loved how perfectly she fit in with the rest of the team. She probably still does, but even ignoring what "liaison" did or didn't mean before, she can't possibly be there now, within any stretch of the imagination, or even suspension of reality. The writers pushed the drama too far, and actually pushed Ziva off a cliff. Now they're just pretending that she can keep walking along, suspended in mid-air.
Other than that — which does NOT cloud the rest of the show for me — NCIS is picking up right where it left off in season six, and it's feeling fine. Now to the boat and the book … maybe even McGee reading his new book to his new lady friend on the boat. Any way they do it, there's plenty of business to get to this season!
Photo Credit: CBS