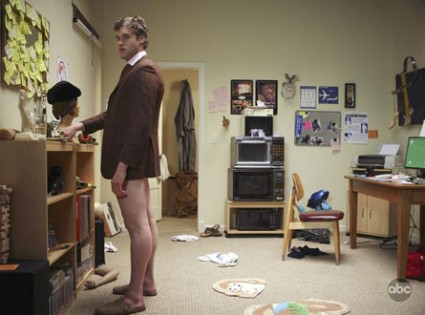 I've been thinking back, yet again, to the days of old. So many shows that have joined the annals of television history, some good, most bad. Actually, an overwhelming number of shows that have seen life have been bad. Yet in the totality of things, every network can boast at least one lineup of historical successes per night.
Or so I'm out to prove. Or disprove. Well, really, all I'm out to do is schedule the ultimate in television experiences for a week. If I can ever make it that far. Many months ago, I talked about my ultimate in NBC Thursdays. Then, more recently, I moved on to Sundays on FOX. The goal is to find one perfect week of TV, but that's many posts away. So for now, let's deal with the challenge at hand: Tuesday nights on ABC. Ah, the memories.
8:00-8:30 In the early '80s, this slot was home to none other than the gang on Happy Days (doesn't that seem so recent?). As time went by, it aired such successes as Who's the Boss?, Full House, Roseanne, Home Improvement, and Spin City. Not to mention duds like Cavemen, According to Jim, and the ridiculous stuff that rotated on the channel last season. Personally, I'd much rather play it safe here, since competition from other channels is going to be fierce going forward. But for ABC enjoyment, I'll take Who's the Boss? in this half hour. It was fun, fresh, and even today it can still make me laugh.
8:30-9:00 Another crazy collection of classics, like Laverne and Shirley (I hear it's one), Happy Days, Growing Pains, Roseanne, The Wonder Years, Head of the Class, and Home Improvement. Then there's the embarrassing admission that I have memories of shows like Hangin' with Mr. Cooper and Phenom. But it's actually a recent show that calls to me, partly because its short life on the air means that this is really the only time slot I can schedule it for, a fact not true for the other series that populated this half hour. I know a lot of people panned it (clearly), but I think that Carpoolers was one of the most interesting conceits to see the airwaves in a while. Even if that's a stretch, no one beats Marmaduke (T.J. Miller).
9:00-9:30 Wow this was a hot night. 9PM saw Three's Company, Moonlighting (never saw it, but I've heard good things), Roseanne (not a fan, but I respect the following), Home Improvement, Spin City, and NYPD Blue. I feel bad ignoring Dharma & Greg because of Thomas Gibson, but, come on. More recently, this slot has seen history made on Commander in Chief, and lots of laughter over on Sons & Daughters. Nowadays some dancing thing is on. I'm actually not sure which way to go on this one.… You know what? I actually think I'm going to go with the underdog and pick Sons & Daughters. First of all, my wife will appreciate that choice (always important). Second, Fred Goss is hilarious, and this allows me to get back-to-back showings of him.
9:30-10:00 Strange how the night historically fell off at this time, after three straight well-stocked time slots, boasting such winners as 9 to 5, Oh, Madeline, Chicken Soup, Grace Under Fire, Hiller and Diller, The Geena Davis Show, Less Than Perfect, Rodney, Hope & Faith, Help Me Help You … you get the idea. But it's also aired Coach, Spin City, and the greatly revered Sports Night. Now, I've admitted before that I've never seen the show, and I'm also quite tempted by the 1981 inhabitant of this hour, Too Close for Comfort. But with respect for Ivey, as well as for Aaron Sorkin, I'm going to give the slot to Sports Night. Just because I haven't seen it doesn't mean it isn't the right choice for the perfect night.
10:00-11:00 There are some interesting choices in the 10PM hour. A lot of good dramas, or shows somewhere in that realm, have aired on ABC at ten. Shows like Hart to Hart, thirtysomething, NYPD Blue, Boston Legal, and  Eli Stone. Even The Forgotten is a strong series, although I don't think it's ready for the big time just yet. And lest we forget the bums: Jessie, Our Family Honor, Jack and Mike, Once and Again, Blind Justice, Women's Murder Club, and Cupid. Once again, however, I'm going to have to go with a forced decision. Eli Stone doesn't really offer many options, and it was too great to be left off of any list of ABC hits. Jonny Lee Miller it is!
Definitely a night that I'd enjoy. What does your perfect Tuesday night on ABC look like?
Photo Credit: ABC