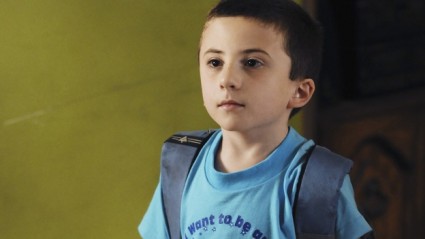 This is what comedy is all about. A typical, everyday situation that snowballs into a series of events that just leaves you shaking your head and laughing.
In the case of last night's episode of The Middle, that situation was garbage day, an event that only occurs once every two weeks in the Hecks' part of Indiana. The garbage truck is heard rumbling along a block away, waking the entire family and kicking their cleanup efforts into high gear. Frankie tosses a beer bottle towards someone, and it hits Brick in the arm. And then "Mom hit me with a beer bottle" brings in the social workers.
I love that Brick is currently residing under the kitchen table, and that no one noticed it for a month. His character is so richly quirky, quite easily one of the best characters of the 2009-2010 television season. Unlike on many other shows, he really is experiencing life from the vantage point at which he observes it. And he's uncomplicated and straightforward, two traits that make it easy for him to innocently cause life to go awry.
The way he wrapped up that non-scratch, utilizing everything he could find in the first-aid kit was funny. But funnier still was the reaction of the hall monitor, and then the school, bringing the police and social services into the equation. While abuse in the home is certainly no laughing matter, in this case it was mined for just the right amount of humor.
Enter the social worker. Frankie scrambling to prepare her house, and her family, was to be expected. But the individual interviews that each Heck was subjected to were priceless. Frankie laughing in that uncomfortable, nervous way of Patricia Heaton's; Mike contradicting each of her answers in three words or less; Sue nervously asking if "that's the right answer" every time she addressed a question; and Axl … well, Axl interviewing the social worker about foster family options was really funny.
I only wish that we'd been allowed to peek inside of Brick's interview. Can you imagine how hysterical that kid must have been? I can't even begin to hypothesize on what that conversation may have sounded, or looked like, save to guess that it involved a lot of show-and-tell on Brick's part around his and Axl's bedroom. And, actually, it would have been really great had he taken her inside of his "room" under the table, a situation that would certainly have led to some tough explanations on Frankie's and Mike's parts. But I guess we just have to give our imaginations some exercise if we want to envision that scene.
The non-family "B" plot was something I'm not sure I was so into. I guess people have been really enjoying the group over at the car lot, enough that Mr. Ehlert (Brian Doyle-Murray) and Bob (Chris Kattan) were given their own story this week. Ehlert is amusing enough, and I'm definitely getting more onboard with Bob, but their own plot? I don't know. Yes, the clearly racist commercial from the 1970s was amusing, but I probably could have done without all of the cuts to the new ad they were shooting — losing that may have allowed us to watch Brick's interview.
But, with or without them, this was definitely another strong outing from The Middle.
"You know all those times you wished someone would come and take your kids away? Well, the reality isn't really as great as the fantasy." – Frankie
Photo Credit: ABC