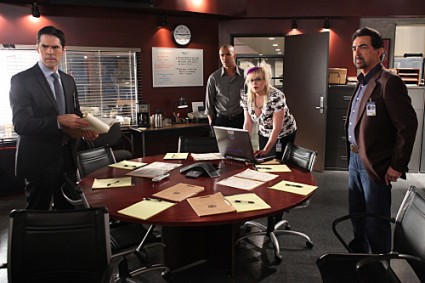 Since becoming a parent, I've noticed that I tend to process my television differently than I once did. Events that pre-baby I found merely sad, I now unintentionally relate to, and the result is generally harrowing.
In honor of its 100th episode, Criminal Minds gave me one of those experiences last night, with the return of Hotch's nemesis, The Boston Reaper. I'd read about The Reaper coming back prior to watching the episode, but nothing could have prepared me for what was to come.
The night started off with appearances by a number of cast members whose absence I've noted in recent weeks. Garcia's boyfriend, JJ's husband and son … everybody showed up for the big bash. And like the show does best, we were instantly in the midst of a major incident, the stars of the show sitting for after-the-fact interviews with Chief Strauss (Jayne Atkinson). And boy did she have it in for Hotch.
It was unclear from the get-go what it was that Strauss was trying to get at, but even the casual observer would have noted that she was hungry for Hotch's blood. And while it took a while to find out exactly why, it certainly didn't take long before we were neck deep in the case-of-the-week.
Actually, the case of the season, as clues to the whereabouts of The Reaper started flying across our screen. It was rather shrewd that the team managed to trace him through the cocktail of drugs that he'd been forced to start taking after inflicting wounds on himself during his initial run of mayhem. I still can't figure out how Reid pinpointed the exact name anagram that The Reaper was employing, but that's why he's the biggest brain of the operation. The set-up was smart, and exactly what we've come to expect from Criminal Minds.
The murder of the US Marshal assigned to protect Hotch's wife and son was particularly brutal. As were the psychological tools The Reaper employed to lure Hotch's wife, Haley (Meredith Monroe), into his web. There's a reason the guy had been able to avoid capture for such a long time.
Hotch's phone call with Haley, up to and including the sounds of her being shot, were heartbreaking. They split because of his job, not because they'd fallen out of love, and Hotch having to bear witness to the murder of his wife might be what ends up breaking him. I've gone on the assumption that, if I hadn't heard anything up until now, Thomas Gibson is expected to continue on as a star of the show. But will he really be able to, considering the emotional beating he must be taking after blaming himself for Haley's death? I can't imagine how he'd manage to do so.
But that wasn't even the apex of this little tale. I hadn't realized that I'd been holding my breath until I released it after Hotch found Jack (Cade Owens) hiding in the trunk, but I must have inhaled as soon as Hotch shot the body who belonged to the shoes he saw peaking out from under the curtain … I was sure that would turn out to be Jack. My eyes were riveted to the screen as Hotch and Foyet (C. Thomas Howell) battled it out on the entryway floor, and I felt a wave of relief wash over me only after Hotch pulled Jack out safe and sound.
And I cheered for Hotch as he beat Foyet to death. Thank God he had the wherewithal to finish it. The utter depravity of the man was enough to condemn him to death by a jury of his peers, but the sick obsession that led him to shoot Haley as Hotch listened over the phone called for a death meted out by the person that he had punished the most.
For everyone who complains that Gibson doesn't emote, his heart-pounding, tear-filled sweep through his house, looking for The Reaper and his family, should silence you forever. That was a stunning performance by Gibson that cements his legacy as a top-tier actor.
We have to wait to see what's to become of Hotch, how losing his wife and now being a single parent will alter him, as well as his role on the show. But the performance that Criminal Minds gave in honor of its 100th tells me that it, and he, are yet long for this world.
And Hotch … my heart is with you.
Photo Credit: CBS