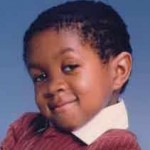 When did Friday night stop being a television destination? Did the 2000s usher in a generation of youngsters who no longer stayed in to watch their favorite shows on the first night of the weekend? Everyone seems to forget that there's Saturday night too, plenty of time to go out and get loaded. And for college kids, there's Thursday night as well (and that's assuming they prefer not to go to their morning classes with a hangover, which is certainly not always the case). So why the change?
Well, whatever the reason, there's clearly been a major downgrade in quality programming on Friday nights. Lucky for ABC, they enjoyed a good two decades as a powerhouse on Fridays; the offerings here are shockingly impressive, and make for some tough choosing. Let's get started.
8:00-8:30 I'll be honest: I know Benson more from Jerry Seinfeld's failed turn as Frankie than for Robert Guillaume's work. But while that may mean that I wouldn't choose to slot it here, it doesn't mean that I don't appreciate how groundbreakingly excellent the series was. Now Webster, on the other hand, I do remember, and I loved Emmanuel Lewis. Not enough to give it a second life, but I do have fond memories. Full House put in a few years here, a series that I could always re-watch in syndication throughout my childhood. Another show like that? Family Matters, also a one-time resident of this hour. But in 1997 something bad happened that would alter the landscape for good. First there was Sabrina, the Teenage Witch (how did this spin out of Archie comics?), followed by progressively lower-quality fare like Two of a Kind (those darn Olsen twins again), The Hughleys (was this really the same D.L. Hughley who later starred as Simon Stiles on Studio 60?), Two Guys and a Girl (sans pizza), The Mole: The Next Betrayal (just call it season two!), America's Funniest Home Videos (post Olsen dad Bob Saget's era), George Lopez (sorry, but I don't get him), 8 Simple Rules (never saw it, but actually wish I had), and Men in Trees (you'll never convince me that this was good). Not to mention reality garbage like Supernanny, Dancing with the Stars, Extreme Makeover, and Wife Swap. Even so, definitely some tough contenders here. Me? I'm going with 1988-1989's offering: Perfect Strangers. Not only were Balki Bartokomous (Bronson Pinchot) and Larry Appleton (Mark Linn-Baker) awesome then … I still think about them now. Ah, Mypos!
8:30-9:00 Another mix of strong shows I don't know but respect, classics I enjoyed, and unfathomable garbage that overtook the night as Fridays became disposable TV. Bosom Buddies is often hailed as a standard-bearer, but how many people say it from first-hand experience? The New Odd Couple was a mistake, a rare instance that this story didn't work. Webster lived here for a while, as did Full House and Family Matters. Then there was Step by Step, a show I never watched when it aired, but one I've seen countless times while overseas. I guess when your choices are that or BBC news, you're kind of screwed. Sabrina, the Teenage Witch stuck its nose in here, breaking up an otherwise six year consecutive stretch for Boy Meets World at 8:30. Now that was a show. But then 2000 hit, and the thumb started pointing downward. From The Trouble With Normal, to Married to the Kellys, to Complete Savages, this timeslot failed to generate much heat in the last decade. And I Married Dora in 1987 fits in neatly with that junk. So where does that leave us? How about with another rabbit out of my hat? Mr. Belvedere spent two seasons at this hour, and I loved the relationship between Mr. Belvedere (Christopher Hewett) and Wesley (Brice Beckham). In fact, it reminds me of that between Mr. Feeny (William Daniels) and Cory (Ben Savage) on Boy Meets World, by far my favorite here. But for scheduling reasons, it will have to wait. For now, it's Mr. Belvedere.
9:00-9:30 The hour saw a lot of shows that we've already discussed — Mr. Belvedere, Perfect Strangers, Step By Step, Sabrina, the Teenage Witch, 8 Simple Rules, Men in Trees, and Supernanny. Then there've been such giants (i.e. I've never heard of them) as Darkroom (anthology horror hosted by James Coburn), The Greatest American Hero (in the style of early superhero nonsense), Lottery! (tracking down actual lottery winners?), Hawaiian Heat (Chicago cops in Hawaii), Sidekicks (a kid tags along with a cop), Max Headroom (Quantum Leap meets Early Edition?), Dinosaurs (like Cavemen, only with dinosaurs), You Wish (I smell a genie), Norm (Norm from Cheers would have been better than Norm MacDonald), Thieves (John Stamos as a double-crossing thief), That Was Then, Hope & Faith (Kelly Ripa's star vehicle?), In Justice, and Duel. Yowza! A couple procedurals came here to die (Six Degrees, Women's Murder Club), while one show (Ugly Betty) found new life here. But only one series stands out for me: Diff'rent Strokes. They rule the world even now.
9:30-10:00 I'll tell you from the start that this is no contest, but we'll go through the motions nonetheless. A little bit of Benson preceded Sledge Hammer! (oddly not a game show), and continued on to Just the Ten of Us (Coach Lubbock from Growing Pains and his eight zany kids), Going Places (early 30 Rock?), Baby Talk (Look Who's Talking gets TV writers and Tony Danza), Camp Wilder (I prefer Van), Teen Angel (you can die from six month-old meat?), Brother's Keeper (too many comparable shows stuffed into one to list), Odd Man Out (a teen boy living with five female family members), Madigan Men (so that's what Gabriel Byrne sees a shrink for), Life with Bonnie (Bonnie Hunt plays quasi-celebs well, no?), Less Than Perfect (aren't secretaries in the entertainment industry called assistants?), and Hot Properties (more Lipstick Jungle or Cashmere Mafia?). The truth is that the only show in there that I have any recollection of is Hangin' with Mr. Cooper (sorry!). So what's it going to be? Boy Meets World. I absolutely loved this show … if they'd wanted to do it (and none of the actors are working now, right?), I would have followed Cory, Shawn (Rider Strong), and Topanga (Danielle Fishel) all the way to their nursing home.
10:00-11:00 Even if I hadn't had my fill already, the 10PM hour has never offered anything of note. Over the years, there's been  Strike Force, The Quest, Matt Houston, Spenser: For Hire, Starman, 20/20, and Men in Trees. I don't know what any of these shows are, but I don't care. That's all she wrote. I'll take a Free Play, and enjoy my smiles. Besides, it'll take a while to recuperate from all the laughter.
Who says the 1980s never gave us anything good? I'd put this comedy lineup up against any contemporary comedy block. What does your perfect Friday night on ABC look like?
Photo Credit: ABC