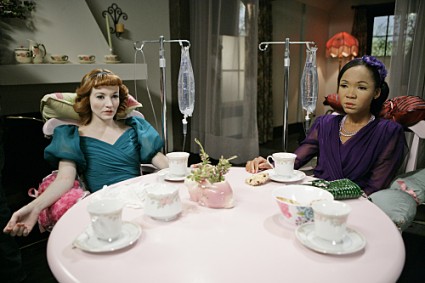 Though it certainly wasn't the first to do so, last night's episode of Criminal Minds left me in quite a quandary. While I love the characters, and I think I would be sad not to know what was happening with some of them, it is becoming increasingly difficult for me to watch this show. While many of their cases have left me feeling sick (and they've certainly gotten more gruesome as the years have gone by), there was something about last night that was particularly disturbing.
And honestly, I'm not 100% certain what it was. I do know that human dolls was bad enough … once the curveball of pedophilia and sexual molestation came into play, I felt increasingly prepared to just turn the episode off. Which is not something that I want to do.
As weird as it was for Reid to just be sitting there in that chess park, I want to know what's going on with him. I want to find out how his NA is going, how that gold medallion from the superior FBI agent will affect him or his career. Won't it? Why else would that door have been opened?
I want to learn if there's anything more to Prentiss than what meets the eye. We know nothing about her, and it would be nice to explore her life in the same way that we've explored JJ's — whose husband and son I'd like to see more of.
And of course I don't want to leave while Hotch and Morgan continue to feel out who's really in charge. The truth is that while Hotch was definitely more dominant last night, it was unclear if that was just his personality out-shouting Morgan's, or the real dichotomy of the unit. Either way I like how Morgan has a louder voice now, the authority to hand out directives within the BAU, and generally a free hand to pursue investigative avenues of interest to him. I know that's not vastly different from everyone else on the team, but it's certainly highlighted more for Morgan these days.
Why can't a procedural drift in the direction of a drama? Why not turn into a show that focuses on characters first, and cases second? That can't be an unprecedented format, even for a procedural. Take NCIS, for instance — I'd argue that the characters are much more integral a component to each episode than the cases. Which means we spend more time getting to know them, even if it's in the context of them working their jobs. But while that's the method in which we've gotten to know the BAU, the horrors of what they do generally supersede who they are.
And I'm not arguing that that's wrong, just pointing out that the reality of the situation, coupled with the increased level of scary on the show, has left me questioning whether I can do it anymore. If we were getting a bigger portion of the characters, hands down I'd be in, no matter what. But when the awfulness of a woman locking her captives in the shell that is their body dominates what should be the continued story of Hotch's struggle to juggle being a single father with his job, I question whether the characters are meant to be anything more than props for the gore.
And I don't want to be thinking like that. But we'll have to see where things continue to head.
One quote I pulled out, a little off-color, but amusing out-of-context:
"So death isn't this unsubs goal, it's an unfortunate side effect." – Hotch to Reid
Photo Credit: CBS