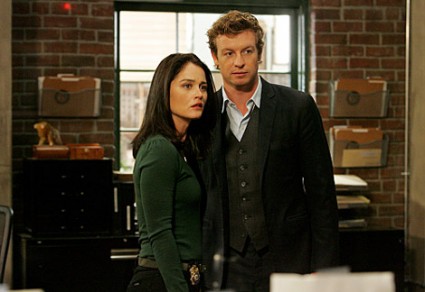 "I just love that new car smell." – Jane, while sniffing the trunk where the corpse was found
It's an interesting question, isn't it? And if they do get together, I don't think it will be anytime soon. In the most recent episode of Mentalist, though, the writers did something very brilliant with Jane and Lisbon, and Grace and Rigsby, on a couple of different levels.
When Lisbon informs Van Pelt and Rigsby that she's turning them in for having a romantic relationship at the end of this case, she believes she's doing it for the right reasons. Following the rules is always the right thing to do, in Lisbon's mind. So aren't we all glad that we have Jane, the anti-rule follower, there to balance her out.
Jane manipulates Lisbon into finally telling Grace and Rigsby to hide their relationship and pretend that they never told her about it. What was interesting is that Jane's manipulation was completely unselfish — he did it to help Van Pelt and Rigsby stay together and to help Lisbon realize she's got to loosen up a bit, and think about her real motivations for such strict adherence to the rules. Sure, Jane still enjoyed the manipulation — after all, playing the game is what he does — but  he did it with complete selflessness.
Now let's take a look at Rigsby and Grace… there was a bit of manipulation going on in their relationship as well, but with very different motivation. Rigsby is such a selfish lunkhead and he doesn't even realize it. I don't think he realized he was even trying to manipulate Grace when he insinuated that his career was more important than hers.
Here's where it gets interesting. Grace didn't fall for Rigsby's manipulation, not even a little bit. Lisbon, on the other hand, has such an easy, comfortable relationship with Jane that she let him guide her, hook, line and sinker, into exactly what he wanted her to do. Whereas Jane really wants what's best for Lisbon, Rigsby wants what's best for Rigsby (which includes a relationship with Grace), even though he can't see that.
At the heart of both of these relationships, lies trust, or lack thereof. Rigsby doesn't trust that he and Grace are forever, and Grace doesn't trust that Rigsby's got her best interests at heart. Jane and Lisbon, on the other hand, have a solid trust and respect for one another at the foundation of their relationship. If anyone has each other's backs, it's these two.
I don't know where all of this will leave Van Pelt and Rigsby, but it's fun to speculate where time might take Jane and Lisbon. Jane really doesn't want Lisbon to carry around the guilt of breaking up Rigsby and Grace, and he really does want her to get out with the likes of Walter and loosen up. But at the end of the day, who does she drive off into the sunset with? I don't think they even realize that they are on a date.
I like the turn their relationship has taken this season, because I don't think the trust between the two of them was there in season one. It's taken time to grow in a natural way and the writers have portrayed these two with such honesty and believability. I hope they continue to take it slow and just like and trust each other. It's a nice solid foundation for the team.
Photo Credit: CBS