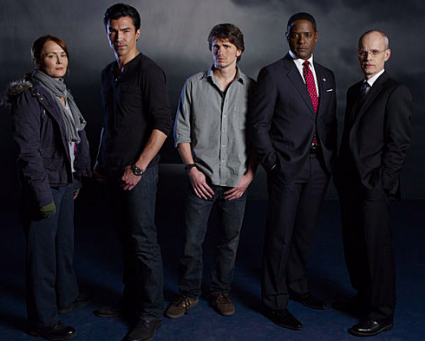 Most times when we get to peek at pilot scripts for new shows, we have no idea how closely they match to what will actually appear on screen, once the episode airs. In the case of the newly picked up NBC show The Event, I think I can safely say that, based on the trailer video for the show (see the bottom of this post), what I read is what's been shot.
I'll give you a little bit of background into what The Event is about, or at least what of it we're supposed to know going into the first episode. As the title suggests, there's some sort of big, world-changing "event" that's about to unfold during the course of the series (season?), and through following along with several key individuals, that big, mysterious event will be revealed to us.
As far as the embedded video below goes, it appears to all come from the pilot episode, with the exception of one scene that's likely minor and added after the fact (the scene with Jason Ritter's character — Sean Walker — doing some cliff diving). Even the dialogue matches exactly. The casting is a little different than intended from the script (such as the ethnicity of President Martinez), but I don't see that it had much of an effect.
Now, onto the semi-spoilery stuff.
The episode does a lot of flashing back and forth from the point of view of several key characters, including Sean Walker and President Eli Martinez (Blair Underwood). Throughout the episode we're teased with how things got to where they are "today." As suggested in the video, the president is just made aware of something big — something kept secret from him and the past president for many years — and he demands to find out more about it. He apparently gets his way, though it's never revealed to us exactly what this "event" is or who the people are behind it. The president is dead set on revealing these secrets to the American people, and that's where things get ugly.
For those watching the pilot, hoping this "event" will be revealed right away: don't hold your breath. However, the pilot ends off with something definitely supernatural or otherworldly … but we're left not knowing what it is exactly, why it happened (well, we sorta know why) or who/what did it. Suffice to say, it should get people very interested in watching the second episode to find out more.
I will say that I believe I've got a good guess for who the people are behind the event, or at least where they came from, and I'm pretty sure a lot of people will have the same theory. I don't want to get into that here, though, or else I may as well spoil the entire thing.
So far The Event feels like a mix of FlashForward and V all mashed up together, and we've seen how well those two have done: one's canceled, the other just barely made it. These shows that have a drawn-out mystery are ones that appear cool in concept and all, but they lose people very quickly if things get slow. For this reason, I don't have very high hopes that The Event is going to have a whole lot of success. Oh, there will be huge fans I'm sure, but Lost-like fans? Probably not.
The Event will air on Mondays this Fall on NBC. Here's the video trailer to analyze until then:
Photo Credit: NBC