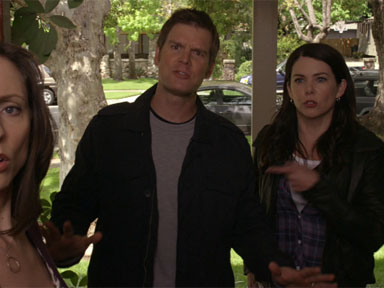 I wasn't all that thrilled with the first few episodes of Parenthood. Those initial installments bugged me because they seemed to end all wrapped up in a tidy bow, with the whole family coming together for a meal after an hour of angst. They followed a pattern: Mix things up early, have characters be angry and struggle with one another, only to have them happily convene as a family in the end.
But given the people involved in the series and the promising subject matter, I decided I'd give Parenthood some latitude, some time to get on the right track.
And the series certainly did find its footing, delivering solid episodes like the one where Haddie and Amber fought over a boy and Amber got mercilessly harassed by Haddie's friends, causing problems within the Braverman family. Loved the episode where Kristina wondered if she'd made a mistake in leaving her career in politics to raise her children. I was similarly fond of the episode where Julia and Joel feared that their daughter Sydney might have Asperger's, like their nephew Max.
The series seemed to have turned a corner and was cranking out complex, smart, tender episodes that reflected messy realities and didn't simply deliver orderly endings on a platter featuring all the cast members drinking wine together like on Brothers & Sisters. Then the finale came along and I was disappointed because its conclusion didn't have the same ring of authenticity that the recent episodes had possessed.
The big storyline involved Amber running away from home — again — and everyone putting aside their anger about her behavior to find her and bring her home safely. By the end of the hour, we saw all the members of the Braverman family grinning and laughing as they watched Drew's baseball tryouts together, bringing the show full-circle as the season premiere ended with a Little League game. (A group of extended family members watching high school baseball tryouts, en masse? A game, yes, but tryouts?)
After an hour of mean spirited acrimony between Sarah and Kristina — with Kristina blaming Sarah for Amber's behavior by being a complete jerk to Sarah and to Drew as she pressured Adam to blow off Sarah's family as retribution — suddenly, poof, all of that disappeared the minute Amber was stuck at a truck stop, at night, in the rain. (This also reminded me of a scene from the premiere where Sarah and Drew, who'd run away to his father's house, were at a gas station, at night, in the rain.)
While it seemed right that the Bravermans would come together in a time of crisis, it didn't seem right that, once Amber was safe, all these deep, hurtful barbs and rude behavior Kristina directed at Sarah and her kids — plus all the juvenile behavior Sarah directed at Adam (backing into his car and not telling him about it) — just appeared to go away and everything was all better.
And what was up with the Zeek-Camille dispute? Zeek, who was a complete jerk when Julia tried to help him out of the financial hole he'd gotten himself into, pulled out a ukulele and serenaded Camille. Afterwards, she agreed to accompany him (and the rest of the family) to Drew's tryouts. Really, that's all it took to repair their deep rift, a song?
Overall, the episode was decent — though I really disliked Kristina's behavior — up until the ukulele scene, followed by the baseball tryouts when everything seemed as though it'd been brushed under the rug. If only they'd just stopped at Drew playing catch with Adam.
Best moment of the finale: Sarah and Adam standing on the front doorstep to Steve's house yelling at him for pressuring Haddie into having sex when he said he loved her, then actually having sex with Haddie's cousin Amber, whom he said he also loved, as Steve's parents looked on in shock and outrage.
What did you think of the finale, of the season overall?
Photo Credit: NBC