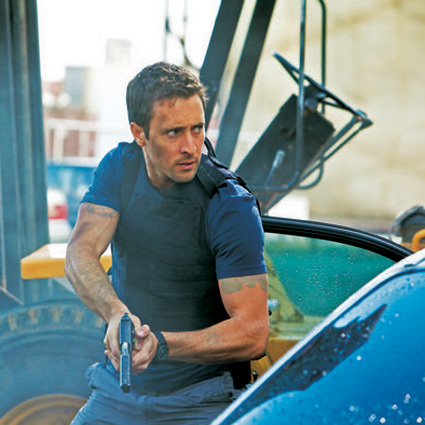 After watching the pilot preview last week, and realizing my review would probably mirror Ivey's word-for-word in accolades, I decided to wait until the show premiered.
Why? Because I thought it rocked and was afraid posting a review containing only adjectives would hurt my street cred. So, I waited until Monday night, wondering if my initial assessment would hold.
Did it hold? Did the show still rock? Hells yes.
What I liked
Although I loved Moonlight and never watched Three Rivers, CBS has finally given O'Loughlin what everyone always wanted: a meaty script, strong supporting characters, and kickass dialogue. In return, O'Loughlin gives them an improved American accent, hot as hades abs, and an awesome performance.
Seriously, even without O'Loughlin, the amount of thought placed into the show breathes utter kickassery. Everything from the opening credits to the writing to the directing to the cinematography appeared well done and well thought out.
What else did I like (besides almost everything)?
Awareness of the original series

They paid homage to the original series while expanding upon its origins. While Jack Lord's 1968-1980 Det. Steve McGarrett awesomeness needed no back story, the amount of contemporary cop procedurals necessitated the showrunners not repeat the old. While O'Loughlin lacks McGarrett 1.0's hair flip coolness, he maintains McGarrett's investigatory detail with a bit of ninja panache.
The writers didn't treat us like idiots. They didn't drag out his acceptance and used Danno as a concrete catalyst.
Great re-creation of the original theme song and opening images.
Just like the original, the camera clearly loves Hawaii. The entire show felt cinematic from the initial rain to the Hawaiian sky while featuring great experimental shots including the Pearl Harbor opening and the outside shot of McGarrett inside.
The Characters
Danno and McGarrett's meet-cute yields another romance to rival the Merlin-Arthur, Neal-Peter, and Sean-Gus match-ups. Clearly McGarrett will play the Mr. Darcy to Danno's Elizabeth.
Danno's awesome all by himself. Not only does he hail from NJ, but he's clearly H5-0's Iago (the side character who steals the show with his wit while muttering dire warnings. Plus, his "Nanny 911"-'ninja' quips keep the  inhuman McGarrett grounded.) If he's from metropolitan NJ (i.e. Jersey City) I can see his love of skyscrapers, although most of Jersey contains suburbs, but how can he not love the shore? What's up with that, Danno? Kudos for not recreating Danno as a man-child shadow of the original. His kid, his nickname's backstory, and his wicked target arm all helped. Side, side note: it's nice having a character who doesn't see the 'job' as his be all-end all.
O' Loughlin's definitely at ease in this role. He definitely fills out a t-shirt. While in Moonlight, it took him awhile to mimic an American accent without eliminating vocal inflection, in 5-0 he just slides into it. I love O'Loughlin's facial emotions and the director played to his strength during the first 15 minutes.
McGarrett's still a great detective in the 'old fashioned' way which puts decent, detailed cop work first.
McGarrett is like the Pied Piper/Dorothy of Hawaii by picking up compatriots as he goes.
Love the car hood slides.
Random Thoughts
Is James Marsters putting a lock on British villain roles (Buffy, Torchwood, Hawaii 5-0) or what? While I never liked his English accent until the final season of B:TVS (please don't hate me, buff fans), I loved his Scottish/Irish accent here.
I barely remember Chin Ho and always viewed him as the third banana, but as an adult watching the re-boot, it still feels like that, although I like the character. I wonder what would've happened if they had cast a native Hawaiian as Danno.
O'Laughlin's American accent might've improved, but do not let him speak Chinese again.
I never understood the appeal of Grace Park. While I liked the criminal's use of iPhone technology, would local cops already know a brand new (un-graduated) recruit? Side note: Really? She didn't wash her hair before going undercover? Side side note: Is it that unlikely for someone living on an island to have sand in her hair?
Is it really that easy to transfer, excluding gubernatorial interference? Plus, does Hawaii really have that much terrorism?
They had a nice moment where they indicate their awareness of their re-boot status a la J.J. Adams' Star Trek.
Perp: What kind of cops are you? McGarrett: The new kind.
Also quote worthy? Danno's "Apology is noted, acceptance pending" monologue.
With the criminal of the week, the British terrorist, as well as the crime in the PD (affecting McGarrett and Chin Ho), the show has several mysteries and plot lines to maintain complication) without hitting LOST levels).
What did other people think? Was it awesome or was it awesome? Has O'Loughlin improved or is he still wooden? How does it compare to the original or, even better, how do you view it by itself as a stand-alone?
Photo Credit: CBS