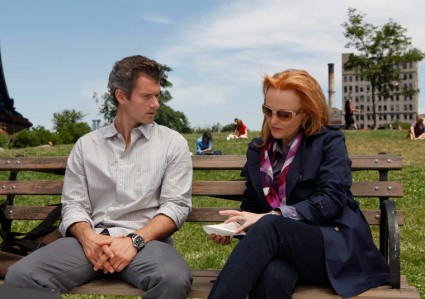 I have a little fetish for all things AMC. Well, all original programs on AMC anyway. Mad Men and Breaking Bad are probably my favorite two shows on television and I am super psyched for the premiere of The Walking Dead. When Rubicon first debuted I wasn't quite sold. I appreciated the subtlety and high production values, but there was something that just wasn't connecting with me. I decided to stay with it, though, DVRing the episodes and watching them when I had a chance.
Well, this weekend I got caught up and have come to the conclusion that Rubicon, while not as magnificent as its AMC colleagues, is still worthy of praise. It is the definition of a slow burn, and I think during the first few episodes it was just a little too much for me. It was almost too slow. As the season has gone on, thoug,h and some of the focus has been shifted from Will to the rest of the API team, the show has risen to new heights.
Honestly, I find the stories of the analysts at API to be more interesting at this point than Will and his hunt for the conspiracy. The research and espionage is fascinating, along with the moral dilemmas that the work brings. We have seen the characters have to come to terms with "enhanced interrogation" of suspects as well as having to recommend the assassination of terrorists. I really appreciate the gravity that the show has given to these situations.
Aside from the plotting, the character depth has also improved. We've seen a  lot of Miles and his struggles with the end of his marriage, while Grant struggles with his own marital problems. Then there is Tanya and her drug issues and, currently, her experiences trying to rehab. They are all characters that I find compelling (and perhaps more compelling than Will himself, even though he remains the center of the show.
My favorite character on the show, though, is Kale. In fact, I think he might be one of my favorite characters on television right now. He's slick, smarter than everyone else, and, as he proved last week when he bullied Maggie's ex-husband, he's a complete bad ass. I think the show really came together when he began helping Will in his investigation, even though his motives are still in question.
Sadly, the ratings for Rubicon aren't quite in line with the rest of the shows on AMC, so I'm not too optimistic for a second season. I certainly hope that, if that is the case, there is some sort of resolution to the conspiracy story line. With Will finally coming into contact with Katherine Rhumor (played by the sadly underused Miranda Richardson), it seems like a lot of things are beginning to fall into place.
All I know is that I am definitely along for the ride now, no matter how long or short it turns out to be.
Photo Credit: AMC