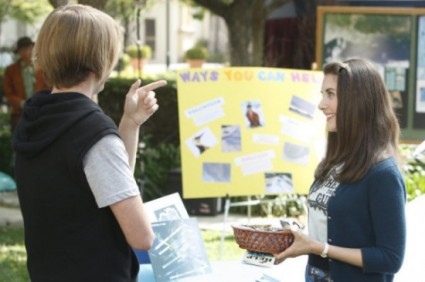 I really want to do this review, because it was a great episode of Community, as usual, but I have to get this first thing out of the way: you know the blond dude who came up to Annie when she and Britta first started trying to raise money for the oil spill? The one who said he'd give her twenty extra dollars and started the whole fight between her and Britta? I'm pretty sure I've seen his penis.
Now, this isn't turning into some weird "CliqueClack After Dark" thing. It was super-random (and I'm not even sure it was the same dude; so don't sue me for libel!). But when I lived in New York, I loved going to the UCB theatre. Every summer, they have a Del Close Marathon, which is 72 hours straight of sketch comedy. I was at one random 8 AM show, and these three dudes showed up and sat in the audience completely naked. I'm pretty sure that guy was one of them (Here's a photo. I think the one on the left is the guy). So random blond dude, if you're reading this, let me know if I'm correct. Also, good on ya. Look how far you've come! Also, that's what she said.
Moving on.
I love how Pierce's religion is basically a stand-in for Scientology, although I hate the fact that Scientology has such a hold over Hollywood that they have to make it an offshoot of Buddhism involving lasers. But the bullshit death theories and the expensive tchotchkes and levels are 100% Scientology, which is evil.
Pierce's drama, plus Britta and Annie's fundraising efforts meant that Jeff took the back burner in this episode, which is okay. Community has one of the strongest ensembles on television, so I'm glad that they're not overly relying on Jeff to drive the plot. His cholesterol story was fine, but the best part was guest-star Patton Oswalt's line: "Come on ladies; those paps aren't going to smear themselves!"
Speaking of great lines, Shirley was pushed toward the back in this episode as well, which I wasn't fond of. However, her observation of, "Yeah, you two are so different. Skinny bitches," was so dead-on. Because honestly? Britta and Annie are exactly the same. I love that they were both called out on their nonsense too. No matter how innocent Annie claims to be or how much of a feminist Britta is, they both are gorgeous women who like getting attention, and the fact that the show addresses this issue is something that is oddly rare in primetime.
Here's what I want to know: what was Abed up to? At the end of the episode, Shirley asks him, and he says not much, but that can't be true, right? I was expecting something elaborate for the end credits, but he wasn't even in it! Instead, we had Betty White explaining Inception. You guys, I love Betty White, but I hate endings that are anything but Abed and Troy. I need more Abed!
Photo Credit: NBC