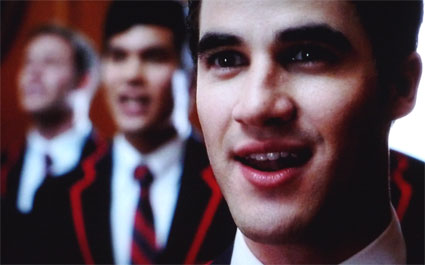 As much as I love Glee, I'm kind of disappointed with the season so far, because each episode has been more about the theme than the characters. Until tonight, only the third episode has given us some terrific storytelling. Tonight, though, it was all about the story and how a particular subject that has become prominent in our own society today affects several people at McKinley High: bullying.
Forgive me for getting out my soap box here, but I believe this will be one of the most important episodes of Glee, or any other series, this season. It's heartbreaking to hear about young people committing suicide after years of bullying, and it's downright horrifying to hear the reactions of some people like school board members and religious leaders. Tonight, Ryan Murphy and everyone involved with Glee used the medium of television to its best advantage. What really made this episode special was that it wasn't just about Kurt being bullied for being openly gay, it was about more subtle forms of bullying that no one thinks about until another's feelings are hurt (even Perez Hilton has gotten that message).
What started out as something innocent, or at least not intentionally malicious, ended up hurting Coach Beiste so much that she resigned from McKinley, much to Sue's glee. No one ever thought that using Coach as a means to "cool down" during a make-out session would be anything more than an anti-fantasy, but no one ever stopped to think how Coach would feel if she found out the guys were using her image as a turn-off. The chat she had with Will was heartbreaking, and to find out that at the age of 40 she'd never been kissed was just so sad. I think Will handled the situation very well, and I worried that she would take his kiss for more than it was, but the scene never went further than it should have. It was nice for the guys to realize what jerks they had been and dedicated their performance to her. This was the most we've seen of Coach Beiste since the first episode this season, and now that we've gotten to know her better, I hope she sticks around.
This week also saw the return of Puck from juvie, and it was interesting to find out that for all of his bravado around Artie and the others, telling his tales of being the top dog in juvie, that Puck was bullied and terrified during his incarceration; so much so that he would disappear before going back if his probation was revoked. I was a little worried that Puck was going to be a bad influence over Artie, but the tables were nicely turned when Artie made Puck his personal project.
The biggest story this week was Kurt's bullying and the introduction of Blaine (Darren Criss), potential boyfriend material for Kurt — we'll have to see how that plays out, since Blaine sings in a rival glee club and a similar situation didn't work out so well for Rachel. Kurt's bully, Dave Karofsky (Max Adler), has been slamming Kurt into lockers pretty much from the beginning, and no one really seemed to think it was a big deal. Kurt found himself (and Blaine!) at the boys' school where he was actually spying to see what they were up to for sectionals. But after an inspiring talk with Blaine (an exceptionally well-written scene), Kurt found the courage to finally stand up to his bully. I don't think anyone saw Dave's reaction coming and it was a shock when he grabbed Kurt and kissed him, but it all makes sense, because they say those with such deep-seated anger and hatred are usually the ones hiding something from themselves. Blaine tried to help Kurt with a sort of intervention to help Dave — if not come out — at least deal with his feelings, but he's still a bit too far in the closet for anything to happen yet. It will be interesting to see where Dave's story goes from here, but I wouldn't be surprised if Murphy has Dave's deep-seated feelings of confusion and revulsion end tragically as a way to send a message to those like him that there are other ways to deal with those feelings; that there are people out there who are accepting and that, yes, it will get better.
Bravo to Murphy, Chris Colfer and everyone involved with Glee for tackling this subject honestly. It certainly could be a turning point for the series, getting it back on the storytelling track and letting the music be more organic to the plot. I hope that they don't squander all of the positive steps they made this week.
"You can't punch the gay out of me any more than I can punch the ignoramus out of you." – Kurt standing up to Dave
"How do we find the only two girls in high school that won't put out?" – Finn
"How are we supposed to compete against a bunch of adorable old people?" – Mercedes learning of their sectionals competition
"Are you kidding? Brittle bones. Give one of those old ladies a good luck pat on the rear, it'll shatter her pelvis." – Puck
"Look, we're not tossing out the baby with the bath water here." – Will
"I've totally done that." – Brittany
"Watch your tone with me, missy. You crap on my leg, I'll cut it off." – Coach Beiste, still not getting the hang of a comeback line
"It's very civilized of you to invite me for coffee before you beat me up for spying." – Kurt
Photo Credit: Fox