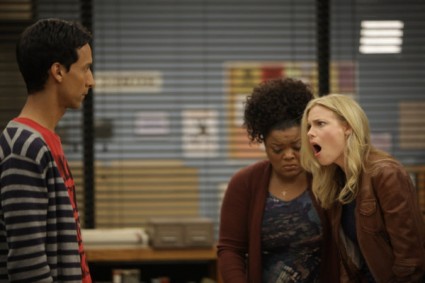 I've never heard the term "bottle episode" before I watched this week's Community, but it makes so much sense. It's one of those things that we've all seen but never really gave a name to: the main characters are trapped in a room somewhere, giving a lot of emotional expressions and dialog (which Abed can neither understand or reciprocate), resulting in a very low-budget episode, which comes in handy for extended season orders.
Even though I missed Senor Chang, Starburns, and all of the other ridiculous characters on this show, it's the core interactions between the study group that really make Community great, and we had that in spades.
Wikipedia makes the point that a "bottle episode" isn't the same as a "filler episode," and that's certainly true of this. We get a lot of continuation of old storylines, so even though they stayed in the same room for the entire episode, the overall plot was still moved along.
The big reveal at the end was, of course, Annie's Boobs (the monkey, I mean. Although there was a fair amount of actual boobage as well). I had completely forgotten about that thing, but it doesn't surprise me at all that they took what looked like a one-off joke from last season and had it come in during a random episode this season and have it resolve the conflict.
More important  than even Annie's Boobs, though, is Shirley's pregnancy scare. It was bad enough when she admitted that she "reconnected" with her cheating ex-husband over Labor Day, but to realize that she was ovulating on Halloween? Troy's bug-eyed expression said it all: holy crap! A Senor Shirley baby! That is TERRIFYING.
I love that Shirley and Chang's shame is going to come to light soon, because that is such a ridiculous event that it really needs to be examined further. Also, "You Know Girl," is the best name for a pregnancy test ever. I mean, EPT? Lame. I want my pregnancy test to be sassy like Shirley's.
Abed, of course, provided some genius in the episode with his crazy chart of the girls' menstrual cycles. It looked like the notebook in Se7en, except super-helpful. I understand the feeling of being violated, but seriously: if someone is going to always have chocolate on hand when I need it? That's awesome. In fact, if that was in the Patriot Act, I totally would have supported it. Phone tapping be damned.
So what are your theories regarding Shirley's maybe pregnancy? Do we have a Chang fetus floating around with a dragon jacket and sombrero?
Photo Credit: NBC