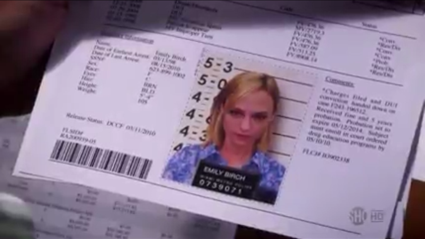 Something I thought I wasn't particularly going to like was having Aster back, even for this one episode. I never cared for the character when she was around more often, but that was more that I didn't like a typical, whiny 12-year-old girl. What I did like here was that she opened up to Dexter and seemed to soften a lot of her hatred toward him, even going so far as to hold his hand in the final moments of the episode. It seems to me that they may be setting up for something bad happening to her, or that she'll be back moved in with Dexter soon. What's your take on that?
When Dexter confronted Olivia's dad, punching the crap out of him in "strategic" places, I recalled that it was mentioned, at one point, that Dexter was a black belt in some sort of martial arts. At the time, that made a lot of sense, since Dexter does a really godo job of handling himself when he has to. For example, he took out Cole Harmon pretty handily. However, for a black belt in martial arts, we've never, ever seen Dexter practice or spar. Hell, we've barely seen him work out! It'd be a nice touch to see Dexter doing something to hone his hand-to-hand skills other than occasionally taking down bad guys.
I feel that the events in this episode really solidify my theory that Lumen is going to take the fall for Dexter. Someone's got to take the blame for these disappearing guys, and it's obviously not going to be Dexter. Lumen feels for Dexter and what he goes through, so I don't feel she'd willingly allow Dexter to be taken in for helping her exact vengeance. However, with Liddy's photos and Dexter's clear connection to her with the house rental (and that he fully admitted he's "friends" with her), if Lumen were to be arrested for murder, Quinn's going to remember those photos from the boat and not be able to ignore the obvious. It's also going to look quite fishy to everyone that Dexter just so happened to be friends with Lumen and taking sessions with Jordan Chase, who will most likely become a victim.
I do wonder if we saw the possibility of Quinn acting out on Liddy Dexter-style, should Liddy do something to Deb. What will Liddy do that would be so bad for him to kill him, though? Would Quinn kill Liddy, only to find out later that his photos make Dexter look all kinds of guilty? Then he'd have to explain where the photos came from and what happened to the photographer. Whatever happens, I don't see a future on the show for neither Liddy nor Lumen, so it's fun to try to figure out how it might play out.
As for Emily Birch, any guesses as to why Jordan Chase has her blood in a vial around his neck? Could she be a murderer along with him; a "blood sister" in crime, perhaps? I really can't begin to guess, because it's really an odd situation. I'd love to hear your theories.
Photo Credit: Showtime