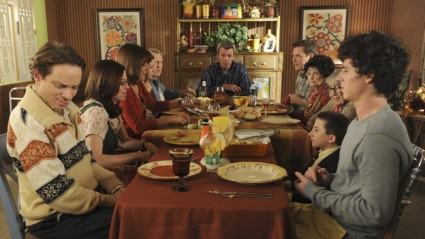 While I did enjoy the show's Thanksgiving episode last season, Thanksgiving take two on last night's episode of The Middle was infinitely better — instead of that irritating plot point known as Black Friday, this year's holiday-themed episode was all about family and the meal.
With Frankie's family not coming — should her aunts not count merely because they're always around? — it was up to Mike to fill the table. His first invitee was his father, Big Mike (John Cullum), who joined the family last year as well. This time he came straight from the hospital, where he'd been recuperating following hip problems.
New this year was Mike's brother Rusty, played by a looking-older-than-I-expected Norm MacDonald. I really felt the family resemblance between the three Heck men, but I could have done without their attitudes on talking and feelings. I'm not saying it isn't likely to be true, but in a medium that depends heavily on speaking, strong and silent doesn't translate so well — times three is three times as disruptive to the flow.
But there was a nice ending to that little tale when Big Mike asked Rusty to stay with him, and I hope that we see Rusty and Big Mike at least as often as we check in with Frankie's aunts. If Big Mike really does live fifteen minutes away, I'd choose to trade in what it says about the Heck men that we don't ever see him for some time with the three (or two) of them together every once in a while.
The best part of the episode was, of course, Lisa (Laura Heisler) the Librarian. Bob's pathetic if he really felt threatened by Brick — I loved when Bob approached Axl with the "Enemy of my enemy" line — but Brick and Lisa had the funniest conversations. How about when they were making an "in" joke about the Dewey Decimal System? Brick got so giddy with laughter; it was awesome!
Frankie ended up as the odd man out this week, stuck with Sue as a comedic partner. She does a whole lot better with Brick, as exhibited last week … in fact, she does a whole lot better with anyone and everyone. Sue's too irritating for my taste, so unless she's doing something that involves her cross country team — always gold no matter what — she's better off as a bit player. Sure, the peeler under the chin thing was funny because how do you explain that, but the rest of the apple pie fiasco was a fiasco itself.
I'm not making a comparison, but if you think back Everybody Loves Raymond used to do great family-centric Thanksgiving episodes. No matter if it was Debra's fish, the fake turkey, Debra's parents, or Amy's family, the plots were always simple and always great fun. Last year's attempt by The Middle might have tried to do too much, but this year hit the nail right on the head.
Which is what The Middle has been doing, by and large, since it premiered last fall: simple family comedy with great results. What more do we need to be thankful for?
Photo Credit: ABC