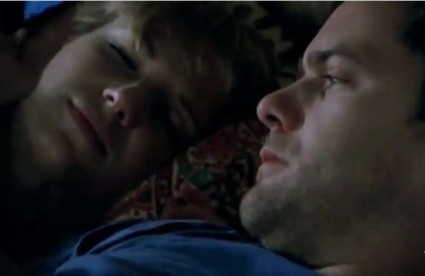 Yes, I do feel the need to continue to be smug about my belief that, all along, Peter did not know Fauxlivia was the alternate. I had too much faith in him and his integrity to think he'd "take one for the team" and act as if all was well just to reach the endgame. Once he had her number, there was no mistaking the view. Gloat! Gloat, gloat. Like Walter said, "…she tricked my son with her carnal manipulations and he fell right into her vagenda!" Classic.
I still stand by how much I enjoy the alternate universe. The characters there that we've come to know — Charlie, Lincoln, Broyles and Astrid — are lovely people. They seem not only interested in saving their universe, but in doing so with a moral compass. Walternate and the scientists are hardened and Fauxlivia, well, Fauxlivia is a cold-hearted bitch. Everyone else who came in contact with Olivia took to her and her good heart. My most beloved alternate, Broyles, lost his life to protect Olivia and the hope she had for both universes.  When Olive walked back into her world's Fringe Division and Lincoln showed her his healed face, I couldn't help but wonder if she would fit in any longer. How could they continue to work with such a lost soul when they have seen who she could be?
It also never dawned on me that alternate Astrid was autistic. But it seemed pointedly clear when she showed her grave concern over Broyles after talking with his wife. Kudos again to the incredible team of actors working on Fringe. That they continue to maintain such separate character personalities and quirks has made this story such a success. Anna Torv, once again, showed the range I thought was lacking when Fringe first aired. She made the switch from pretending to be Olivia back to plain Olive leaving no doubt it had occurred. That I can like the same actress in one role and dislike her in the other on the same show seems ridiculous, and yet makes it all work.
Even though I knew in my heart Olivia would come to no harm, when she was encased in that hospital bed and the little buzz saw started whirring, it made my skin crawl. Nope, we don't want to lower her heart rate at all or else we might damage the organs we want to save. Say what?! So she's encased in plastic, unable to see what is happening but able to hear and feel. That is truly the stuff of which nightmares are made.
I was so happy that Olivia made her way home using the same tank where she first experienced sensory deprivation when trying to connect with John Scott. Everything fell into place. Admittedly, I wanted to see Fauxlivia melted on the floor of the transport vehicle, but should have realized it was Broyles when Peter told him to stand back. Seeing a character I fell for so deeply perish is just no fun at all.
Olivia has no idea what has taken place while she was gone, and much like Dan on Hellcats, I don't think Peter's sincere heart will allow him to keep the truth from her for long. Trying to get her life back and finding out someone else has been living it will really test Olivia's resolve. Even Fauxlivia will most likely be surprised the others were so easily duped. Both universes have undergone such great change due to the exchange of Dunhams; I think we'll be in for a real treat during the second half of season three. Friday's will not beat us down. Bring it on!
Photo Credit: FOX