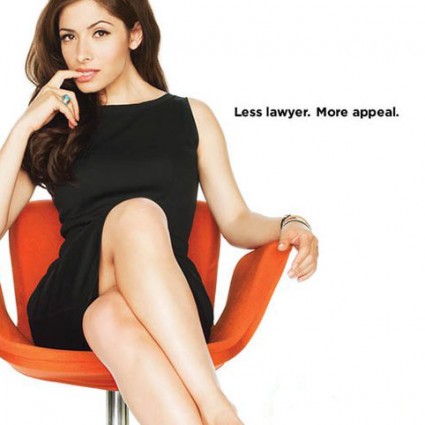 While I was in Vancouver visiting Psych for USA's media days, we received the invitation to visit Facing Kate, now called Fairly Legal, produced/created by Michael Sardo (The Tracey Ullman Show, Caroline in the City, American Embassy, Wings) for USA network.
The show surrounds free-spirited Kate (Sarah Shahi) frustrated with the legal process after her father's death. Although she continues to work at his law firm, now run by her same-age stepmother Lauren (Virginia Williams), she has switched from the legal position of attorney to the fairly legal position of mediator while undergoing a divorce from her lawyer husband, Justin (Michael Trucco). Think Caroline in the City meets Gray's Anatomy with a legal twist.
During the brief, one-day visit we saw a rough cut of the pilot and toured the studio housing Kate's house boat, her almost-ex-husband's office, and her law building. We also watched a live take in the video village. Afterward, we interviewed members of the cast/crew including Michael Sardo, show creator; Michael Trucco; and Virginia Williams. Unfortunately, I missed the later interviews with Sarah Shahi and Baron Vaughn, the nerdy assistant (think Leverage's Hardison). It's an interesting experience watching a pilot then shuffling over to meet the actors immediately after. Without minimum prep time, you want to ask the cast questions about their current show without overtly focusing on their past successes or asking too many questions about their other acting projects. In the end, it's clear Sardo assembled a strong charismatic cast.
Visiting the live set of a brand new show greatly differed from visiting an already established one or virtually touring another. While I'd analogize Psych with a comfy couch, Fairly Legal is more like a shiny new car, flush with a gourmet craft services spread (featuring pecan pie) and slate gray offices. Although I'm a self-proclaimed couch potato, one of the Psych extras stated he enjoyed working on the Fairly Legal set.
Other set insights include:
The show is supposed to take place in San Francisco, so they scouted Vancouver-based approximations.
Kate's house boat doesn't reside in water, but inside a studio in front of a backdrop.
Justin's office was impressive. However, the swanky San Francisco sky line is actually a huge photo blown up as a backdrop.
Sarah Shahi memorized the names of all the bloggers and their sites, so she requested we use namecards to put names with faces.
The nice thing about rough cuts is you get to see area-specific things before they're modified. For instance, TD Bank markets itself as "TD Bank" in the US but as "TD" or "TD Canada" in Canada. In one of the final scenes, Kate stands in an office building with a "TD" sign out front. Additionally, we see Kate holding a cup from a Vancouver coffee shop (which I will assume is native to the Pacific Northwest).
Kate's law building set was the most impressive. While people were very careful about our handling items, they allowed us to take individual photos behind one of the desks.
I found a covert connection between myself and the set. I'm on the planning committee for my undergrad institution. I was shocked to find the law library's brief on Leo's desk. My school's librarians are dragons, so I have no idea how the prop mistress/master caught a hold of something not marked as discarded and was not a replica, without death. Since we were forbidden from taking photos of the set, I had hoped one of the PR guys could shoot a photo of me holding it so I could circulate it amongst the alumni society as mini-PR.
While people seemed pretty cautious on the new set, I had a mini-conversation with one of the crew who seemed intrigued by the visiting bloggers.
Michael Trucco is a rockstar cowboy.
Similar to the Psych interviews, I will slowly release the interviews and my thoughts of the rough pilot over the next couple weeks/months. Fairly Legal will premiere on January 20th on USA at 10PM with repeats throughout the weekend.
Photo Credit: USA Network