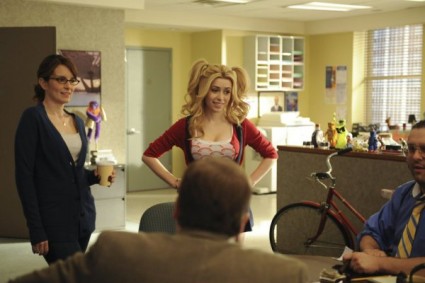 This week's episode of 30 Rock was very, very odd. I didn't quite hate it, and I feel like I would be a complete hypocrite if I slammed it, but something was off. It felt like I was watching a different show this week. It just didn't "feel" like an episode of 30 Rock. So much of the comedy in the show revolves around the relationships between the characters. That's why I think it was odd that Jack spent most of the episode with Kaylie Hooper (played brilliantly, I might add, by the hot commodity that is Chloe Moretz) and Liz spent the half hour squaring off against the super annoying Abby Flynn.
I know I recently complained that it felt like 30 Rock was getting a little repetitive, hence my self-professed hypocrisy. You would think that an episode as different as this one would have made me happy, but it didn't. Certainly, there were high points. I like Kaylie and hope we get to see more of her and Jack squaring off. I always love when Lutz gets beat up, so seeing him pee himself at the UPS man was fantastic.
At the same time, though, there was a lot of bad too. Abby Flynn was annoying, and the only thing that was more annoying was the payoff of that story line. Wouldn't Abby have just confided in Liz when she confronted her in the park? I know I'm thinking about it too hard, but 3o Rock is usually so sharp and smart, and this plot came off as neither.
There is one other thing I have to mention. It has not been a week or two, but I already miss Tracy. Yes, he is over the top and completely insane, but I really like what he adds to the show.
So, what did you all think of the episode? Am I way off base? I will admit that I watched the show after finally admitting that I was sick and measured my temperature at over 100 degrees, just as I enter a week long vacation. That may have put me in the wrong frame of mind.
Photo Credit: Ali Goldstein/NBC Universal