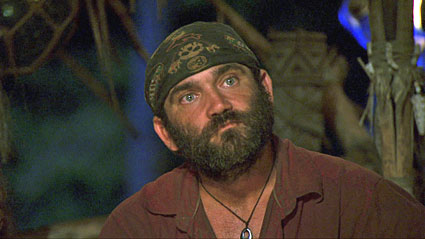 For the first time in what seems like two very long years (or four seasons, if you will), Survivor will be Russell free. Even if he wasn't on last season, it still feels like he's never gone very far away; but I can't tell you how thrilled I am that Russell is gone.
When Russell Hantz made his first foray into the Survivor jungle, he was definitely someone new and exciting to behold. He knew the game inside and out, he could play people against each other and, even when people realized what he was doing, they still went along with his plans. By the time of the merge, though, his game was getting stale and repetitive and sometimes downright mean. Everyone playing the game knew that keeping Russell around at that point was only going to benefit them at the final Tribal Council, because for all of his vast knowledge — like how to find hidden immunity idols without a proper clue — his one fatal flaw was that he did not know how to be social. It was a no-brainer to bring Russell to the finals, and the jury supported that decision by not rewarding Russell with even a single vote.
Russell was given a second chance to play the next season on Heroes vs. Villains. This time Russell was playing with a cast of seasoned veterans. Even though he (and we, the viewers) knew this cast of characters, they did not know him (or maybe Parvati had some inside information, depending on what rumors you choose to believe). He was able to play the same exact game he played during his first season, and it worked … to a point. Once his lack of personality became apparent to one and all, the post-merge game played out identical to his first season.
Russell's disadvantage on Heroes vs. Villains was that he had no idea during production if he'd won or lost his first season. The show had not yet aired (the seasons are filmed back-to-back), so Russell just assumed his strategy had nabbed him a million bucks and would do so again. When he lost twice, he was less than gracious and even tried to buy the title of "Sole Survivor" from the winner!
After a season off, Russell came back for Redemption Island claiming he was there to challenge Boston Rob (on the opposing tribe) and play a new, different and improved game; but he didn't. Granted, Russell was disadvantaged from the start by playing with a group of people who knew all of his tactics this time around. Russell would have to switch up his game, be more sociable with his tribe, try to catch the flies with honey instead of his usual vinegar, yet knowing that he had a huge target on his back. Russell still played the same exact game: zero in on a couple of the girls, make them all kinds of grand promises (that can be broken any time Russell feels betrayed), and laze about camp like he is the king of the island. Then he had to nerve to be upset and surprised when his tribe voted him out.
I have to admit that, in that moment when he lost the duel against Matt on Redemption Island and broke down, I got a tear in my eye. It seemed like such a genuine and monumental moment in Survivor history … and then Russell snatched that all away by showing what a sore loser he truly is, by calling out his tribe members and helping the opposing tribe learn more about Russell's former teammates than they should have. And now Russell wants to sue the tribe members who voted him out for violating their contract by throwing the competition that resulted in them going to their first Tribal Council. Seriously, this is coming from a man who clearly did violate the rules when he burned people's personal property, and is now involved in a lawsuit for allegedly leaking the weekly elimination results to a blogger during his first two seasons. And now there is even a movement online to have Russell cast on the next edition of Big Brother!
Some say Russell Hantz was one of the greatest players ever in the history of Survivor, and I can't argue that the first half of his first season on the show went a long way to support that; but as it became more and more apparent that he was really more of a bully than a real game player, it was only a matter of time before he truly got outwitted, outlasted and outplayed. That he didn't take it well only makes me feel even better that he's finally gone.
Photo Credit: CBS