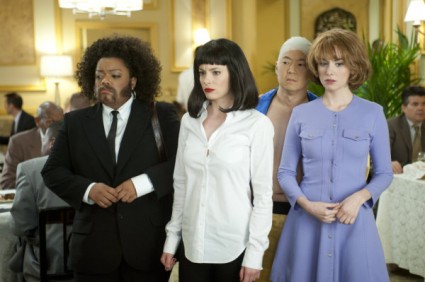 Well, Dan Harmon did say on Twitter that anyone looking for a Pulp Fiction spoof was going to be disappointed, and he was right. Of course, that's not what I was looking for, so disappointed is not how I would describe myself after watching this episode of Community. Probably, "beautifully confused" would be more apt. I loved this episode, but I know I'm not only going to have to watch it a couple more times to fully appreciate it, but I'm going to also have to watch My Dinner With Andre, which I've never seen (how much do you want to bet that there's going to be a big Netflix run on that movie?).
I love that all week there was buzz about Community doing Pulp Fiction, only to have the episode itself have very little to do with Pulp Fiction at all. Sure, the costumes, briefcase and "Bad Motherfucker" wallet were all a lot of fun (Shirley looked amazing as Sam Jackson), but Pulp Fiction really took a back seat to My Dinner with Andre and, hilariously, Cougar Town.
Cougar Town is a weird show in that it's so easy to make fun of, but if you watch it you realize that it's actually pretty great. The staff at Cougar Town has also gone on record many many times as saying that they're all huge fans of Community, so the Cougar Town subplot was pretty much my favorite meta moment of the show ever.
Watching Community week after week, it's easy to overlook Danny Pudi. As Abed says on the show, emotional growth isn't really his jam, so it's easy to forget what an amazing acting job Pudi does playing that role. Somebody said — I think it may have been at their recent Paley panel — that Chevy Chase has a difficult time discerning the difference between Abed and Danny and that he thinks Danny is a little "touched."
I would bet that a lot of viewers have the same problem, which is why when the show started, seeing Abed just smile was so unsettling. I've gotten so used to Abed that I've forgotten that something as simple as smiling just isn't something he does.
The entire restaurant scene with Abed reenacting Dinner with Andre and telling his Cougar Town story is definitely one of my favorite TV moments of the year. Pudi absolutely nailed it and should get 100 Emmy's for his performance. Of course he won't, because award shows snub Community for some reason, and out of context, that clip probably doesn't seem all that Emmy worthy. In context though, it made this my favorite episode of the season so far.
Photo Credit: Lewis Jacobs/NBC