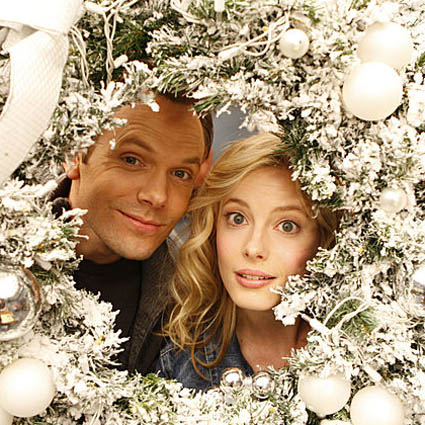 Last week, I posted the first half of the CliqueClack fracas concerning whether good TV existed or not. I loved that people answered in droves. Some were concerned our critical perspectives prevented us from seeing the bright side. Some felt that today's TV sucked ass. Others were in-between. This week is the flip side to last week's conversation.
The thing is I do think good television exists now. I feel we turn away from new shows because we're looking for every single show to represent knock-your-socks-off 24-7 Hawaii 5-0 meets Veronica Mars meets Mad Men personal resonance type TV. For me, if a show isn't reality TV, if it doesn't pander to the lowest common denominator (According to Jim, Two and a Half Men), if it doesn't rely on rote stereotypes or hackneyed writing patterns, if it clearly attempts to do something new or at least interesting, if it's clear they have invested time in the writing, directing, acting and production, if the production staff seems in earnest (as opposed to turning out cookie cutter TV), even if it doesn't knock my socks off, I'll mark it as decent television. I believe that's what we experienced this year. The Cape showed novelty and uniqueness. The Undercovers, Mr. And Mrs. Smith meets Hart to Hart, we haven't seen before with African-American leads. Harry's Law, featuring an intelligent, middle-aged, normal-sized woman without a savior complex with minority characters and a blonde who didn't fit the stereotypical molds, all get thumbs up from me. Heck, even Perfect Couples, which doesn't ring ANY bells with me, broke away from the hot singles who never hook up pattern that Kona railed against.
Compared to two to three years ago, new TV today is better. Back then, no one wanted to create new shows. If they did, each network had its own pattern that it tried to force new pilots into, switching from originality to stagnation. The CW switched from shows that happened to feature attractive casts (Gilmore Girls, Popular, Reaper and My Life as Rock Star), to shows showcasing ONLY spoiled, rich, sex oriented, inhumanly attractive characters while re-booting old series (Beverly Hills, Melrose Place, Privileged). VH1 went out of control with its celebreality spin-offs (Flavor of Love begat I Love New York which begat I Love Money). NBC tried to copy Ron Moore's Battlestar success with the Bionic Woman. Even Bill Lawrence desperately tried to hang onto Scrubs on ABC.
Yes, 2005 had better TV, but I'm looking at the last two to three years, right before the writer's strike where TV seemed on a downslide. Now, I think we're on an upslide. Since the networks returned to scripted television, started takings risks on new non-spin-off shows, and avoid "ho"-reality, I find myself happier. I might even urge them to bring back the mini-series (without the bells and whistles). ABC started that off with V. But, The Cape might have worked better with 4 episodes. Heroes everyone knows required only one season. And, The Event should learn from its mistake.
When we look at the 2010-2011 season, there's good TV and there's awesome TV. We can't have awesome, addictive TV 24-7, but we can have good TV where we won't throw ourselves out a window if our significant other turns it on. Luckily others agreed with me. Jen, who uber-uber agreed with the idea of good TV existing now, might even create her own post highlighting the decent ones. Below find Chuck's positive argument for the good TV. Carla and Deb provided one word assents, although Deb doesn't watch Desperate Housewives or Smallville. Even, Ivey, when disagreeing, admitted good shows existed in the 2010-11 season.
So, in the immortal words of Liz Lemon, for those who don't like Community, 30 Rock, or Parks and Recreation, "Suck it, nerds!"
Clack on to see what we thought.
Jen: I think there is really fantastic television on right now — House continues to be good, Fringe is phenomenal, and I gotta tell you, Dexter and Breaking Bad might just be the greatest television on right now. The thing is, none of these shows are on the three major networks. It seems to be FOX (shudder) and cable that are hosting the best writing and acting. Conversely, why hasn't the entire writing staff at Big Love been fired yet?
I don't watch Smallville, but I have a friend who has been watching it for ten years and thinks it is doing some of its best work right now.  I hear the same about 30 Rock – and it's enough for me to want to try both series, when I've never really been compelled to before. I was completely uninterested in Parks and Recreation, and now I regret that. And I think Community is the most underrated show on television right now, and that is heartbreaking.
Interestingly enough, despite my not having mentioned any CBS shows until now, my father watches CBS almost exclusively, so for the first time in years, I actually know what's on CBS. I've been intrigued by (and watched) The Good Wife, and the Jerry O'Connell/Jim Belushi show is OK. So, I'm starting to think CBS is the broadcast channel that most has its act together (behold CSI and NCIS).
Chuck: I was just about to pipe in about Smallville.  For a show that's been on for ten years, and a show that I did quit for a couple of seasons about midway through, they have really stepped up their game.  Along with that, I have to give props to Supernatural for maintaining its standards in this sixth season — a season which was not even supposed to have happened!  I'm still a huge Fringe fan, and I'm still enjoying The Vampire Diaries, The Middle, Modern Family, Community, Parks & Recreation and 30 Rock.  And Raising Hope is a new gem.
And I will defend V as a bit of escapist entertainment that has had to make some serious compromises in storytelling because of the network's mishandling of the show.
Carla: Nikita. Too bad more people aren't watching. Best new show of season. And, perhaps the only one I really look forward to each week.
Ivey: Yes, there is good stuff on TV now. But if you were to take someone, say Herc at AICN, and look at his top ten hour longs from say … 2005: Battlestar Galactica, Veronica Mars, Gilmore Girls, Lost, Rome, 24, Six Feet Under, The Inside, Everwood, and The OC.
Last year's top 10: Mad Men. Justified, Lost, Breaking Bad, Boardwalk Empire, The Walking Dead, Fringe, Caprica, Damages, and Parenthood/Friday Night Lights. Now, I could be completely wrong, but, show vs show, I think one list pales in comparison to the other.
Carla: I actually think last year's list may be stronger than 2005. There is no huge gap in quality between those lists.
Deb: What Chuck said, except I don't watch Smallville.
Photo Credit: NBC