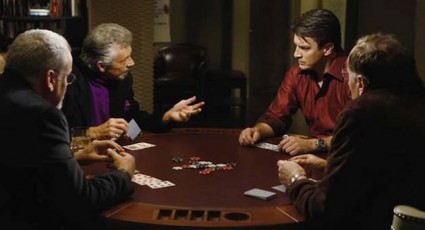 My feelings about the poker games on Castle are fairly transparent. I've never even tried to be cool about them; I'll unabashedly profess my love for the quirky poker games with the inspired cameos of real mystery authors anytime I'm asked. OK, even if I'm not asked.
The love affair between me and the poker games started when I previewed the first two episodes of the series, and I made a not-so-subtle plea to the writers for weekly poker games. I didn't get my weekly wish, but the fact that they are recurring is good enough for me. I even basked in the glow of the not-really-poker-games poker games in an episode where the guys at the station play with Castle's family. I'll take anything, I'm really so pathetic. …
The poker game this week in "The Dead Pool" was my favorite so far, for a number of reasons. First off, it was worth it for Michael Connelly's quote alone, as he was needling Castle's protege, the novice writer:
"You know what I did after writing my first novel? I shut up and wrote 23 more."
Priceless. The way Castle, Connelly and Lehane collectively belittled Conrad while tossing out ideas to help solve the crime was brilliantly written.
Finally (but definitely not lastly) the tribute to Stephen J. Cannell was so sweet in its perfection. The respectful pause following Castle's explanation of the empty seat spoke volumes. Even though they've done a tribute to Cannell already in a previous episode, I do not think this was in any way overkill … sweet perfection.
Even though it wouldn't be possible to actually fill Cannell's seat, it was very clear that the seat would only be held open for a year in tribute. That got me thinking about what other authors I'd love to see join in the infamous poker games.
Harlan Coben was the first that came to my mind (well, after Robert B. Parker and Philip Craig, who sadly, we've already lost before they could cameo in the greatest mystery writer poker games ever). I've loved his suspense / mystery novels for a long while now, but I've recently started reading his Myron Bolitar series, which is so reminiscent of the Spenser novels that I love every last word on every last page. His writing is also snarky enough that I think he'd be a great addition.
Keith and Kona both thought that it might be fun to see a woman join the poker games, and Kona suggested Patricia Cornwell, which I think would be great as well. Tess Gerritsen and Kathy Reichs have their own small screen stuff going on, so let's give someone else a shot. Brett suggested Lauren Henderson, and says, "She doesn't have the crazy release schedule that a lot of the guys at the table do, but she is credited as creating the 'Tart Noir' genre, and the Sam Jones novels are great."
Ivey remembers Castle's pilot script including Stephen King in the poker games, and that would be cool with him.
How about you? What famous mystery writer would you like to see at Castle's poker games next season?

Loading ...
Photo Credit: ABC