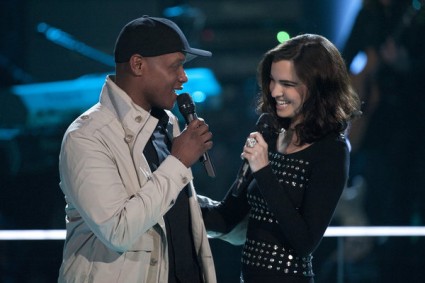 Michael's already given his seasoned critique of this week's episode of The Voice, so I'm not going to bother with that. Instead, I'm going to give you the viewpoint of the person making random comments at her TV during broadcast.
In general, I preferred last week's first set of Battle Rounds to this week's, for the purely subjective reason that some of my favorite artists from the blind auditions performed last week. (Anyone else still missing Tim Mahoney?) Like the second half of the blind auditions, though, this second set of battles seemed a little rushed; the first battle round was fine and good, and this week it seemed like Carson Daly was talking just a little faster (and a little flatter, too). It's as if the show perpetually goes slower the first time, then speeds itself up the second time to make up for it. And that's just a bit annoying.
Production gripes ahead, let's get to the performing. Team Cee Lo got to go first this week, and the big man with the bright wardrobe (seriously, that bright red outfit left me feeling like I ought to be wearing sunglasses indoors) matched Tje Austin with Nakia. I like both artists, but there's something in me that was pulling for Nakia, if for no other reason than the advancement of total defiance of the usual "pop star" package. Like Michael, I was worried that Nakia might just overshadow Tje, but was glad to hear that wasn't the case.
Then my new favorite person on Earth, Adam Levine,  had to come right out of the gate with a line about the amount of hair involved in their battle, and I started laughing. (I pretty much enjoy everything this guy does, I'm not gonna lie.) I finally stopped just in time to hear Cee Lo hand Nakia the win. Okay, no surprise there.
I'm sure I wasn't alone when I thought out loud, "How is that going to work?" when Blake Shelton paired Jared Blake with Elenowen for a three-person battle using one of my favorite classics, the Marvin Gaye & Tammi Terrell duet "Ain't No Mountain High Enough." Not only did the numbers confuse me, I was having a hard time picturing the guy who first auditioned with a Cobra Starship song belting out a sixties R&B hit, so it also didn't surprise me when Blake said in rehearsal that it wasn't working. Bless them, though, they rebounded and made the best of it. Even if Jared had a bit of a problem trying to figure out what to do with his limbs while sans guitar. I don't know what was more interesting, that or Adam's critique of it, complete with his own hand gestures and an admission of empathy.
I've been partial to the musical couple since they confused everyone at blind auditions, so I was sad to see Jared bump them from the competition. Here's to hoping they eventually find the success that will get them out of her parents' basement.
If you've been reading this far, it shouldn't surprise you that I'm a Team Adam girl. When Adam walked into that warehouse, I may even have blurted out the phrase, "Shut up, my team is on." Well, my team sent up Javier Colon and Angela Wolff this week. Javier is pretty much the darling of The Voice, if you believe the promo spots, his fellow competitors, and the fact that he got all four judges to turn their chairs during blind auditions, so I thought that Angela was going to get slaughtered. (Having just gotten off the phone with her in a postmortem conference call, I can say that so did she.) Just about everyone expected Javier's victory, but the surprise was that Angela shone brighter than expected; the two of them actually made quite the pair. I mean, look at that picture up top. How is that not adorable?!
Closing out the night were Team Christina members Justin Grennan and Beverly McClellan. A red flag went up for me when Justin admitted he'd never heard The Who's "Baba O'Riley" before and Bev confessed to being a huge Who fan, but I tried not to worry too much. After all, we saw Casey Weston in the same situation last week, and she won her battle. Unlike Casey, though, Justin never seemed to get comfortable with the song. He certainly gave it his best, but the posing (and the outfit that wouldn't have been out of place in Grease) just underscored that the poor guy was out of his element. I'll freely admit that I didn't like Beverly during blind auditions, but one can't deny that the woman has a fierce passion, and between that and his musical disadvantage, Justin was toast. He told me on the phone this morning that he wished he'd been given another song, and I don't blame him.
The sadness of his departure was at least tempered by the laughter I got out of Adam making up a new word, saying in his critique that he'd thought Bev was going to "murderize" Justin. I wonder if that'll work in Scrabble? In all honestly, Adam is funnier than some of the stand-up comics I used to work with.
This second slate of battles, which were all-around much easier to call than the first, reinforces something that probably goes overlooked in all these singing competition shows: it's not just about what you do, it's also about what happens to you. Might Angela still be standing if she'd gone against anyone other than Javier? Would Justin be alive if he'd been given a song he'd at least heard of? We'll never know, but you can't deny that the arrangements out of their control at least factored into their dismissals. At the end of the day, though, you have to make the best of what's given to you, and all the eliminated singers did that, even if they didn't manage to win their battles.
And you have to have a great deal of respect for all of them to even have gotten into the ring in the first place. As someone who once butchered "Africa" by Toto at an office party, I know that if you put me on that stage, in front of those judges, I'd just fail spectacularly. At best, I'd give Adam material for some more witty remarks. Which I suppose I wouldn't mind. I might actually just start laughing again.
So more power to you, Voice artists. I'll just keep singing along with you from the safety of my couch.
Photo Credit: NBC