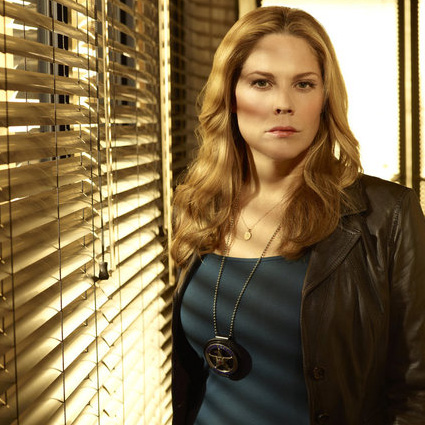 A few weeks ago, I had the pleasure of interviewing Mary Shannon. Sure, she might go by Mary McCormack, but when a blonde woman who works in New Mexico and wears leather jackets all day yells at you for asking if her pregnancy is the result of a surrogacy for one of her witnesses, then you've talked to Mary Shannon.
When the interview opportunity came across the CliqueClack listserv I leapt on it, pushing Carla and Jen aside in an insane Star Trek-style street fight. I don't remember much save one of us used the Corbonite Maneuver and one of us wore a Gorn suit.
It's great talking to people who work on shows you respect. But, there's always the awkward moment of trying to figure out how to end the conversation (which got me into the aforementioned trouble).
As you might guess, I loved In Plain Sight's first, second, and third seasons. I watched the premiere before the interview and had a slew of questions to ask Weller and McCormack about the show. However, the one thing that shocks me is that the actors and moderator always allow us time to ask as many questions as possible. I know I said "final question" about three times, but I didn't feel the time press. While I'm always mindful of other people on the call, I typically expect someone to tap me on the shoulder with a polite "ahem." Even though my two questions morphed into five, the entire blogger-oriented conference call still ended early.
I don't think Mary McCormack's pregnancy is a spoiler, but how they're going to work it into the show is. When neither Weller, nor McCormack, nor the moderator seemed to rush me off the line, I decided to slip in another question. Since Jen had a theory (mentioned in the other post), I proposed it to Mary with a thunderous response. If you're wondering … Mary's baby IS NOT the offspring of one her witness. IS NOT. How do I know? Mary McCormack yelled at me for five minutes. Okay, maybe not for five minutes, more like ten seconds, but after four seasons she definitely identifies with her character.
Although I didn't have any direct questions for Fred Weller, I'm glad he chimed in. Ever since season one, I've had an unending crush on him. He has the on-screen bearing of an actor with a strong theatre background, reflected in his The Good Wife guest spots. So, I enjoyed hearing his sense of humor at play.
Below is a CliffsNotes version of the interview:
Mary McCormack has an amazing memory. I threw a three line two-part question at her which she and Fred parroted back at me almost word for word.
After a certain point, I don't think Mary or Fred really needed me there as they talked to each other and I found myself merely interspersing "yes." It's nice when the actors have a strong relationship, because their chemistry carries on-screen.
Mary's relationship with Marshall and her family does change because of the pregnancy.
Mary McCormack enjoyed the monologues and viewed them as the "opportunity for the audience to just know the real her [Mary Shannon]."
Allison Janney and the brother won't return this season.
Mary and Marshall will always love each other.
If you're interested in seeing the full transcript, click on. Page two discusses season three and possible season four changes. Page three discusses Mary and Marshall's relationship. Page four focuses on the relationship.
Photo Credit: USA Network