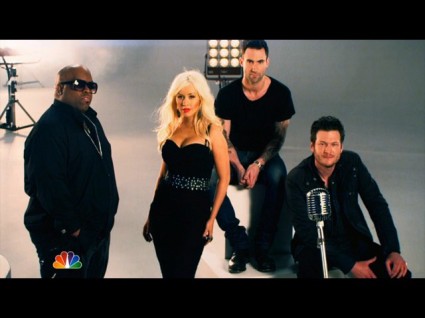 The live shows for The Voice are finally here, and the first thing that comes to mind is: I was totally supposed to see Adam Levine rock that badass Queen medley live. But I digress. (Forgive me if I whine a little.)
Tonight's live show focused on Team Christina and Team Blake, with two artists from each squad to be sent packing. Before that, though, we were treated to one heck of a Queen medley. (It was worth it just to see Cee Lo Green without the shades.) I figured once the songs were announced that Adam would be doing "Bohemian Rhapsody," and he really wrung everything out of that song. Cee Lo and Blake Shelton — an unlikely pair if there ever was one — jammed together on "We Will Rock You" with the assist of Adam's mad guitar skills from mid-audience. Then Christina Aguilera surprised me with her rendition of "We Are The Champions," with the other coaches joining her to finish the whole thing off. It really was fantastic, and I'm going to be watching it a few more times. I can only imagine how cool it was to see live. (Insert grumbling. I am also mildly amused that while Blake dressed up for the show, Adam and Cee Lo didn't.)
Things got taken to a new level production-wise this week for the live shows; it took me a minute to get used to the extra glitz and the choreography. Team Christina's Raquel Castro started things off with a big routine, and reminded me of a wannabe Christina with her glammed-up look, complete with huge heels that I would never be able to walk in, let alone perform in. I'm with Adam; I admire her for being able to sing and dance at the same time. Yet she didn't quite grab me. I don't have anything against Raquel, but we have so many pop divas out there (like Christina herself) already. Personally, I'm looking for something a little more unique.
Team Blake's Jared Blake toned it down after that, performing Kings of Leon's "Use Somebody." Adam took the words out of my mouth — it was a perfect fit for his voice. Blake caused me to choke on my soda when he classified Jared as a rock guy by saying, "You'll never get through a metal detector." Neither will I, and I have a guitar … does that make me a rocker? Ha.
Following Jared was Team Christina's Beverly McClellan, bringing us a Melissa Etheridge song, an interesting wardrobe, and her cold. Bev's a trooper; if it hadn't been mentioned before she performed, I would have had no idea she was sick. Like Jared, the song matched her voice very well. I'd have something more eloquent to say here, but I dissolved into giggling as Christina and Adam started a fight with each other that saw him tell her to shut up (you have to love Blake chiming in "Yes!" in the background) and then get himself bleeped for the third time. Did I mention how much I love these coaches yet?
Dia Frampton from Team Blake was next to go, armed with a Kanye West song, a sparkly outfit, a fog machine and a piano. I was iffy on Dia after her battle round, but I was  really impressed with her performance. I'm not a Kanye fan, but even I got totally sucked into the song. I'm with Adam and Blake — Dia's rendition of "Heartless" is definitely a high point for The Voice. It serves to remind us that one week or performance does not an artist make (or break).
After that, we took a break to learn more about Christina and her team, before the whole team got together with their coach to perform "Lady Marmalade." It wasn't necessarily bad, but I didn't get into it for the same reason I wasn't grooving with Raquel earlier — I personally am bored with the whole pop diva thing. And Raquel's outfit made her look as if she'd escaped from a marching band.
Team Blake's Xenia came next, and I went "awww" as Blake told the nervous teenager that he was her biggest fan. Not to mention as he was caught singing along with her. Signs of a supportive coach, folks. Xenia's not quite at home on stage yet, but I could see her start to come out of her shell, and that was great. Win or lose, I'm just glad to see a young artist get such encouragement, because I know from experience how much that means. More power to you, Xenia.
After Xenia came Team Christina's Lily Elise, wearing an unflattering studded dress and matching jacket that made me want to walk by her with a magnet. I said last week that Lily should have been sent packing, and she didn't change my opinion. Her rendition of Fergie's "Big Girls Don't Cry" didn't capture my attention, but I also found myself distracted by the dancers behind her. I wasn't the only one, as Blake turned to Christina and asked, "Was it your idea to have the four mimes?"
Since we had the Team Christina moment, we were also due a Team Blake moment. It was much better, if only because Blake got one over on Adam by having them perform Maroon 5's "This Love." Being a huge M5 fan, I recognized the song from the first note and my jaw dropped. Adam's facial expression was awesome, and I was with him in loving the rendition (I'm also glad that, unlike the Walmart Soundcheck EP, the Voice producers didn't chop certain lines out). I am quite disappointed that this — along with the coaches' medley — is not available on iTunes for download. Sigh.
After that was one of my early favorites, Team Blake's Patrick Thomas, with one of my favorite songs, "I Hope You Dance" by Lee Ann Womack (did anyone else melt a little when he talked about his sister?). Patrick didn't disappoint, giving a fantastic rendition. Unfortunately, Christina had to ruin the moment by asking him to take his pants off again, which led the critique of his performance to mostly dissolve into an argument between the coaches about who wanted to sleep with who. Funny, but a little awkward — especially since Patrick's mom was also present — and very off point.
Closing out the night was Frenchie Davis from Team Christina. Frenchie was also saddled with mimes (on tables this time), which seemed to prove that yes, the mimes were Christina's idea. I'm torn when it comes to Frenchie. She's got a powerful voice and stage presence — that's what experience on Broadway will give you, folks — but there's something in me that says she isn't The Voice.
My votes are going to Team Blake tonight. If I had to pick a favorite, I'd give Patrick the edge over Dia, if only because he made me get a little teary-eyed, but I think the whole of Team Blake delivered some fantastic performances, and no one on either team really fell flat. It will be interesting to see how things turn out now that almost everything is in America's hands (the coaches do have one save). Most importantly, I learned that no amount of high-gloss production, backup dancers or flashing lights will distract me from the bottom line: the music. And that's what this is all about.
We'll try this 'live reporting' thing again next week. Until then, Voice fans — if you haven't already, get to voting!
Photo Credit: NBC