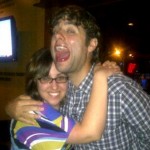 Thanks to the chemistry of our writers and the magic of the internet, readers might not realize that CliqueClack isn't based in just one city. In fact, except for Keith and Deb (spouses), Deb and Bob (siblings) and a handful Clackers on the east coast (who I've been assured talk about the rest of us), the majority of the CliqueClack crew members have never met each other in person.
This is why, when our very own Jay Black mentioned to me a few weeks ago that he'd be in Fort Wayne (a few hours from my house) for his stand-up tour this past weekend, I didn't hesitate in accepting his invitation. Even if the universe imploded from the two of us being in the same room, I knew I couldn't pass up the opportunity to meet one of my fellow Clackers.
Jay and I talk on Twitter all the time (@jayblackcomedy and @justplaintweets), so meeting each other in person wasn't as awkward as it could have been. He and I got along swimmingly. We talked about the normal stuff — Star Wars … sexy girlnerds … Bronson Pinchot's role on Step by Step … the slow, unabiding march to death that is life itself. You know, the basics. Sometime in the middle of our conversations throughout the night, I realized that even after the night was over, Jay and I would be continuing these discussions online as if nothing had changed. My Little Pony is right — friendship is magic.
Now, he wasn't just in Indiana to see me; he was performing at Snickerz Comedy Club, with Zach Rody and Matt Bergman as the opening acts (who were both very funny). I'll be honest — just like I was with Jay after the show — I wasn't sure what Jay would be like on stage. I was completely prepared to give Jay some gentle, polite comments: "It was really interesting," "You know, the acoustics were really off," etc. (Jay suggested, "You look really comfortable on stage," when I mentioned this after the show). Luckily, I didn't have to use these because he was great! Did you guys know Jay Black is actually hilarious?
Jay was expecting the first show to be the less rowdy/drunk crowd, but he couldn't have been more wrong. Thanks to a woman celebrating her birthday, her date/someone she picked up at the bus stop was completely wasted by the time Jay got on stage. The man had the word "Redneck" tattooed on his torso and pulled up his wifebeater to show Jay. Jay took it in stride and ended up making it still pretty funny (how can you not respond to that?), but he was pretty bummed that I didn't get to see his full routine because of the distraction. So … I stayed for the second show. And it was fun to see him not have to deal with the drunk redneck … although one audience member shouted out the details of his wife's lactation (I really wish I was making that up). My favorite part of the second show is when he talked to me for a moment from the stage without any explanation to the audience. Oh, and the oral sex jokes were funny, too.
We got to talk and drink after the show, but since the club's drinks were pretty damn weak and Jay had unlimited free drinks for being "the Talent," he got to partake in more of the happy juice than yours truly. Jay was a sweetheart and bought both me and my boyfriend a drink, but I was still pretty much sober. Of course, if I was sober and still laughed at Jay's act he must be really funny, right? We had so much fun that I ended up staying up in Fort Wayne a few hours longer than I had planned. I got home late at night/early in the morning, exhausted but very happy about the whole evening.
So, what have we learned today, children? For one, the universe will (in theory) remain intact even when badass bloggers meet each other in person. For another, Jay Black is fucking hilarious. The Podclack — like porn — is online, free and highly enjoyable in itself, but if you ever have the opportunity to see him perform in person, I would highly suggest you do so. And let him know the weird ladynerd sent you.
Photo Credit: M. Bragiel