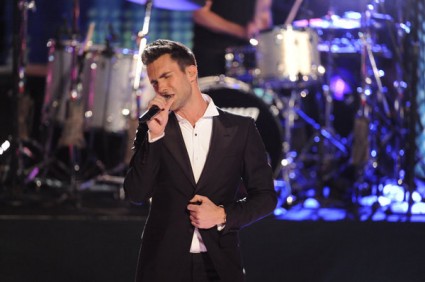 When I was packing my bags for The Voice this week, Maroon 5's "Back At Your Door" was playing, and I caught myself singing one lyric: "You're my reason for living, and there's no way I'm giving up." I had no idea how appropriate it would become.
The story of the semifinals, for me, was not about the show itself, but about the heart(s) in it. I've talked about this previously, but that was nothing compared to this week, where this reality-competition show that could took me on an emotional and spiritual journey that I want to share with you, dear readers.
I can't believe that I almost didn't go, but it's true. About an hour before I was supposed to walk out the door, I fell and landed badly on my recently surgically repaired left knee. It hurt so badly that even after two Tylenol, I was having trouble. I wondered if I would survive a day on the Warner studio lot, but because I'm stubborn, I literally dragged myself to the car anyway. I feel blessed to be even a small part of this show, and I wasn't going to let any of it pass me by. (If my doctor is reading this, I'm sorry for going against medical advice.)
Now, I was lucky enough to have a pair of studio-audience tickets for Tuesday's show in hand, which was fantastic but also mandated that I spend the better part of two hours either standing in a queue or walking from one holding place to another. After my earlier fall, this took pretty much everything I had. By the time we actually were in the studio, it took three people to help me up the stairs to my seat (thank you, Shane and company!) — and once I sat down, I wasn't sure I could get back up. I really can't describe to you how much agony I was in, but I would do it all again for what happened next.
I told you last week that watching the show from the press room was a totally different experience than seeing it from home. Watching it from the studio proper is an entirely different experience from that. You can feel the energy in the room; there's more than a thousand people bringing it. And for me, being a writer and former crewmember, there's the adrenaline that comes only from being on a live set. It was fantastic the whole way through. You really can't quite grasp what it's like until you're on that set.
As a Maroon 5 fan, the highlight for me was seeing the band take the stage with Christina Aguilera for the premiere of their new single, "Moves Like Jagger." It was my first time seeing them in person, and I lost myself watching Adam Levine own that stage, while exuding a happiness that was infectious. I could tell that was exactly where he was born to be, and I fed off of his energy. It was one of those times where you just feel everything click into place. Maybe it's a sign, but the first time you can spot me in the broadcast is during that performance.
There were some great turns from the artists as well. Dia Frampton continued her roll and finally made me stop hating REM's "Losing My Religion." Everyone freaked out when Javier Colon ditched his trademark hat in the middle of Coldplay's "Fix You." Beverly McClellan successfully shifted gears from rock to soul with "The Thrill Is Gone." And I give Casey Weston props for tackling Dolly Parton's "I Will Always Love You," because I've never been able to sing that song, ever. Not to mention, as a die-hard Team Adam fan, watching two of the artists I've come to think of as "my people" exit the show was heartbreaking. It caused a knot in my stomach. I don't want to say that the show itself wasn't great, because it was. But it was after the show that things really happened.
As it turned out, I almost couldn't get back up. I was very proud of myself that I was able to get from my seat to the stairwell without my walker; I still needed the shoulder of my assistant but that's the best I've ever done in the past year. I was so concentrated on getting down the stairs that I missed what happened next. Adam's assistant had taken notice of me and my Maroon 5 T-shirt, and pulled my assistant Lisa aside to ask her if I was a fan of the band. He told her that if I stuck around, he could get Adam to autograph something for me. Unfortunately, I also had a press line to get to. …
Outside the studio, Lisa caught up with me and told me that Adam was coming to meet me on the press line.
I've already spoken about how I adore Adam Levine, so you can imagine my face — and my nerves, and how I was shaking. I didn't have enough time to compose myself before his assistant was in front of me, introducing the two of us. In retrospect it was probably a good thing because all I could do was speak from the heart. I shook his hand and told him thank you, that I felt like I owed him for the spirit and the aspirations that have gotten me through my difficult times. "You don't owe me anything," he replied, and steered the conversation away from himself, asking about my health instead. I asked him if he'd mind if I hugged him, and it was when he was holding me that I started to cry. I'm pretty sure it's hugely unprofessional to be weeping on the press line, but that moment was the validation of so much. It was the reward for so many months of suffering. It was meeting one of my heroes and finding out that he absolutely deserved the pedestal I had put him on.
I'll never feel like I've articulated these minutes properly, so I'll just say that after we said our goodbyes — by name at that — I was still trying to blink tears out of my eyes. Have you had those moments when you know your life has changed? For me, this was one of those.
As if that wasn't enough, I had a heart-to-heart exchange with Blake Shelton a few minutes later. I told him that as someone who had started my career at a young age with very little support, I deeply respected how supportive and protective he was of Xenia – I certainly wish I'd had a Blake in my life back then. He thanked me for the kind words, and after I interviewed him, he surprised me by giving me an affectionate pat on the shoulder as he left. I was still trying to recover from the shock of meeting Adam, so I almost got emotional all over again.
Those few moments on the red carpet gave me a lot to reflect on. The Voice is exactly why I chose to become an entertainment journalist, and not a lawyer. My career is and always has been about two things: giving voice (pardon the pun) to stories that deserve to be heard, and proving that the media can be a positive and constructive force. Both those things exist in this show. I've met people whose stories I want to tell, and I've seen my life changed for the better, when I needed it most.
How on Earth was I supposed to follow that? Well, there was still a results show to cover!
Wednesday night I was back in the press room, which was fine as there was a lot for me to chew on. The final four — Javier, Vicci, Dia and Beverly — didn't surprise me (can anyone stop the freight train that is Javier Colon?) but how it all went down was food for thought. The talking point seemed to be Adam's decision to vote well in favor of Javier over Casey, rather than the other judges' 50/50 split (or close to it in Cee Lo's case). Let me start off by saying that I absolutely understand Christina, Blake and Cee Lo's point of view — were I in that position, I probably would have also found it hard to do anything other than divide the points evenly, if only for the fact that it would be difficult to choose one person over another after nine weeks of watching them give us their heart and soul. It was tough for me to see the members of Team Adam be sent home; just as a viewer, I've become invested in them.
That aside, I support Adam's decision because I understand the reasoning behind it. As he said, Casey is much younger, and because of that, will likely have more opportunities than Javier, who's already seen a few get away from him. Adam was trying to help the artist that he could do the most good for, and I respect and applaud that, as well as his honesty toward Casey.
It was also tough to watch the impact that the cuts had on the contestants — as well as the judges. We saw Nakia and Dia both break into tears, and Blake seemed to be on the verge of them. And who could blame them? As I've said before, it's easy to forget the fact that this show is affecting people's dreams and changing their lives, whether it's artists who haven't had a chance like this before (like Xenia) or those who've struggled for years (like Javier). The coaches are all very cognizant of that fact, and they've all spoken about how close they've become to the artists on their teams, so it doesn't surprise me that it's just as difficult for them. I'm very glad to see they care that much.
What a trip this semifinal week has been. It's one that will always be dear to my heart.
Even today I'm still feeling it: as I write this column, it's been more than fourteen hours since I've taken any pain medication for that knee. Despite everything that happened Tuesday, I feel better right now than I ever have before. I believe I'm finally starting to heal. And I can't help but think that it's Adam Levine's positive energy that did the trick; at the least, he certainly helped. Just one more thing I have to thank him for.
Is anyone else as bummed as I am that this show is over next week?
Photo Credit: NBC